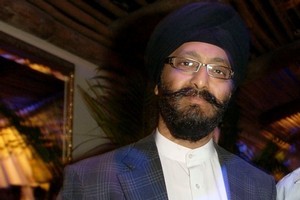 SATURDAY
To the National Party conference in Auckland, which starts like something on TV's Comedy Central. The jokes just keep on coming.
Auckland Mayor John Banks, tasked with officially opening the conference, welcomes those who have come from overseas - "Christchurch and Dunedin".
Banks, a former National Cabinet minister, says how wonderful it is to be remembered as a former MP.
He had been at a party function the previous night and had been approached by a young MP who had remarked: "You are looking so well, Mr Peters."
The Prime Minister also has a few words for out-of-town delegates, suggesting if they want to take home a souvenir of Auckland, he has one rather old, used shed.
"Come two weeks earlier and it could have been 'buy one, get one free'," he adds in further reference to the Party Central debacle.
Bill English pointedly notes that it is delegates from Invercargill and his Clutha-Southland electorate who have travelled the farthest to get to Auckland. "You have your shed. We have our shield." Now that's rubbing salt into Auckland wounds ...
Amid the various Cabinet-minister dominated sessions over the weekend, time is found to hand out a few awards to the party's members who do the hard yards at electorate level.
One such award is for the electorate with the highest party membership.
To no one's surprise, this year's winner is Northland - the electorate held by long-serving MP John Carter. The engraver's spelling will not be tested. Northland is the name that has gone on the trophy for each of the previous 15 years. Electorate chairwoman Sally Macauley collects the trophy and heads back to her seat - but not before treating delegates to a short poem with the title, For the 16th year running ...
"They've won again I hear you shout
Winners once more, there is no doubt
Carter's mob? Yes. it's a rout
Champions again - over and out."
Up north, they think Macauley should be in the running to be New Zealand's poet laureate.
SUNDAY
Down in the capital, the All Blacks are not the only ones waking up with a winning smile.
Phil Goff was at the Westpac Trust stadium (otherwise known as the "Cake Tin") the previous evening.
Watching the test from Westpac's corporate box, he became the proud owner of an All Black shirt signed by Richie McCaw after coming closest in a pick-the-score sweepstake.
The Labour leader chose a final score of 32-18 - a forecast which was well inside the margin of error, given the actual score was 31-17.
Pleased as Punch, Goff, his wife Mary and a small retinue headed for the bars and cafes of Courtenay Place to celebrate both victories.
Incidentally Goff has now won three signed shirts in recent months - the other two rugby league ones. He no doubt would happily forego that luck for some in the polls.
THURSDAY
An attack dog has little bite when it struggles to breathe, and especially when its target is large enough to anchor any vessel in the stormiest of seas.
So when Chris Hipkins, one of Parliament's youngest and slightest, steadied himself to topple the generously bodied Gerry Brownlee, it was somewhat crippling that his question was buried in his bad cold, and all that could be heard was a croaking, wheezing, spluttering voice that seemed on the verge of breaking altogether.
The National benches erupted into advice on how to handle puberty, prompting Speaker Lockwood Smith to intervene: "All of us at times get a frog in our throats and lose our voices.
I invite the member to have a drink of water," he said.
FRIDAY
From Parliament's quirky file comes the Military Manoeuvres Act Repeal Bill. Promoted by National MP Kanwaljit Singh Bakshi, the private member's measure would repeal a 1915 law which enables the Governor-General to declare any land be available for military manoeuvres.
To the best of the Defence Force's knowledge, the law had not been used for 30 years. It was introduced to deal with the extraordinary circumstances of mobilisation for World War I.