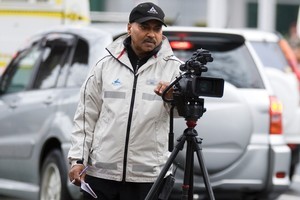 The Auckland City Council has a target to raise $12 million more in bus lane and parking fines that one councillor says is a "straightforward money grab" to hold down rates.
Councillor Mark Donnelly has produced budget documents showing Mayor John Banks and the Citizens & Ratepayers majority instructed officers to hire an extra 30 traffic wardens and three infringement review officers in equal lots over the three-year term of the current council.
The target was to raise an additional $2 million in fines in year one, $4 million in year two and $6 million in year three - a total of $12 million.
"The increase in wardens was done through the budget-setting process. There was no prior case demonstrating a need on safety or parking. It was solely revenue-based," said Mr Donnelly, an independent who voted against the measures.
"The deliberate increase in enforcement and subsequent income has seen wardens prowling local shopping centres constantly. They are out in suburban streets in the early hours of the morning, issuing warrant of fitness tickets," he said.
Auckland City's controversial bus lane enforcement regime has sparked a public backlash since figures showed the council handed out fines totalling $4.2 million in the past financial year - an average of 77 tickets a day.
Motorists are allowed to enter a bus lane only within 50m of an intersection, and many people say they have been unfairly caught out.
One such person was Greg Moyle, a C&R councillor who voted for the extra enforcement measures, but got stung with a $150 infringement notice for driving in a bus lane before making a left turn.
On Wednesday, he condemned the practice as "revenue gathering".
Last night, Mayor Banks did not disagree with the accusations of revenue-gathering. In a statement, he said the independent parking advisory board was charged with generating revenue for the city that was used to offset rates revenue.
In December 2007, Mr Banks and his C& R allies were looking at ways of cutting spending and raising more revenue to cut a planned rates increase of 10.2 per cent to 4.8 per cent.
Transport committee chairman Ken Baguley said the extra traffic wardens and parking revenue were a "legitimate" part of a package in 2007 to reduce a large rates rise inherited from the Dick Hubbard-led council.
He said the council asked the parking division to operate in the most efficient, fair and even manner to generate new revenue. The extra resources also coincided with the introduction of more bus lanes.
Yesterday, council staff were unable to give accurate figures for parking revenue for the first two financial years. Last October, a council officer said political demands to increase revenue had not been met.
Anthony Lee, a Parnell businessman, has obtained figures under the Official Information Act that show how traffic enforcement staff numbers have risen.
They jumped from 60 in July 2007 during the Hubbard council to 77 in July 2008 under the Banks council. They rose to 89 in July 2009 and fell back slightly to 87 this month.
Mr Lee sought the information after noticing an increase in parking-warden patrols outside his office. "I've got a very good view of a road they regularly patrol ... Especially in the past 24 months, the frequency has increased tremendously."
As well as a crackdown on bus lane and parking infringements, Mr Baguley's committee endorsed last year the idea of extending the hours for on-street parking charges in central Auckland, Ponsonby, Newmarket and Parnell from 6pm to 10pm, but that was quietly dropped after the furore over a crackdown on suburban bar opening hours.
A "confidential" report on after-hours parking had forecast an extra $1.56 million a year in revenue in downtown Auckland and $1.95 million across the city.