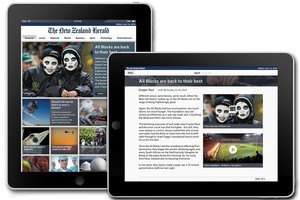 Apple's latest and much-talked-about device - the iPad - is officially available throughout the country today and users will have the chance to get a free download of a new Herald iPad application to go with it.
The NZ Herald iPad app lets readers interact with the Herald website in a whole new way on the iPad tablet, which has already been sold to millions of people around the world.
Users can watch videos, surf the web, read e-books and run hundreds of applications from Apple's App Store on their iPads.
Online editor Jeremy Rees says it will bring up-to-date news to readers in a way that is more interactive.
"We already have a leading newspaper, website and mobile offering, so our iPad app is simply another way for our readers to access their favourite Herald content in real time everywhere they go.
"And, because the content is hand-picked by our editorial team, it steers users towards the most important stories of the day and the latest news updates."
Prices for the iPads vary from $799 for a 16GB Wi-Fi-only model to $1348 for a 64GB device.
Herald Online general manager and publisher Spencer Bailey said the new iPad application was "an obvious" next step, given the high number of people accessing the Herald website.
"We've focused our attention on delivering an app that appeals to iPad users - it's image-driven and showcases the striking photography we have - as well as offering our advertisers new ways to reach a high-quality audience."
- NZ HERALD STAFF