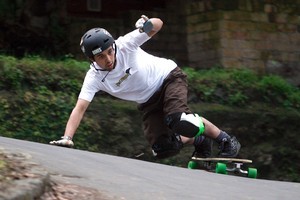 The organiser of a daring skate down the Bombay Hills expressway for visiting longboarders has struck back at critics who called them idiots.
Jestah Carnie, who builds the alternative skateboards from his Mt Eden home, was one of the six riders seen in YouTube footage riding along State Highway 1 at up to 100km/h who have been labelled idiots by traffic police.
Visiting Canadian rider Andrew Chapman films the ride and is seen passing a truck-and-trailer unit before the group take the State Highway 2 offramp.
The video had about 340 viewings on YouTube on Wednesday night but since yesterday's story in the Herald, that had jumped to 7245 by 6.30 last night.
Mr Carnie, 25, who has been longboarding since he was 11, said it was the first time he had ridden the 2.5km route but it was a "very planned, structured event".
The road was chosen because it had two lanes so motorists could pass easily and there was less chance of a head-on collision.
"Every rider knew what he was getting himself into, was asked: 'Is this within your limits?' ... and every single one of those riders had the skill."
Mr Carnie said Mr Chapman, an award-winning rider who had skated on steeper mountain roads around the Canadian Rockies, had indicated with his arm to change lanes before passing the truck.
While longboards had no mechanical brakes, there were at least three ways in which riders could use their bodies to stop, Mr Carnie said.
One of the riders, Bricin Lyons, also from Canada, was not wearing shoes during the ride but told Mr Carnie he found it difficult to stop by using his feet because of his weight so felt he did not need footwear.
Mr Carnie met the two Canadians in Vancouver during a three-month stint longboarding overseas.
He set up the NeedNotOllie.com website as a forum for alternative skateboarders when he came back to New Zealand in 2008.
The Bombay ride was part of a week-long tour around the North Island, labelled the High Grade Safari, in December for about 10 local and visiting riders.
"The two main things we were trying to do was, firstly, promotion of the hills and the skate potential that New Zealand holds.
"The second point ... was to bring over international riders of such high calibre and put them in front of the local riders so they can promote their message of safety."
Earlier this month, a longboarder was killed when she failed to negotiate a turn in north Vancouver and collided with a van.
Fine arts student Glenna Evans, 27, was an experienced longboarder and was wearing a helmet and racing leathers.
LONGBOARDERS DEFEND THEIR RISKY KICKS
The Herald yesterday received several emails from longboarders defending the ride.
* "These guys are highly trained professionals who have more to worry about from drivers on their mobile phones or eating while driving and not seeing or knowing how to react when they see a longboarder."
Gravity Sports NZ chairman Nick Foard.
* "My longboard is my main means of transportation, passion and entertainment. I've been riding for five years, I've crashed going 90km/h more than once (and didn't die). Longboarding is what I do and I'm not an idiot."
Canadian longboard race organiser Adrian English.
* "I can stop my longboard faster than a car if I need to. I am 54 years old and I've been bombing highways like that for eight years now ... sure accidents do happen ... but how many cyclists die on the roadways every year?"
Tad Drysdale.
HAVE YOUR SAY:
* Is longboarding on the highways safe? Email: newsdesk@nzherald.co.nz