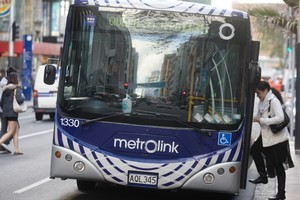 Auckland City councillor Greg Moyle's grumpiness at being ticketed $150 for trespassing on a Symonds St bus lane is understandable. But he should be kicking himself for breaking the law, not denouncing his own organisation for "revenue gathering". After all, he is part of the council that highlighted the $43 million central bus corridor between Britomart and Newmarket as a key part of its transport policy.
Indeed, Mayor John Banks was out before dawn one day in April 2008 turning a sod and participating in a Maori blessing for what he heralded as part of a vital public transport link between North Shore City and southwestern Auckland.
But now it's in operation, along with other bus lanes around the city, motorists, including Councillor Moyle, are finding it hard to share the road with buses, hard to abandon the 50-year-old mindset that the car is king and should have right of way over lowly peasants stuck on public transport.
With an election looming, this car-centric view of the world can only get worse. Mr Moyle says the fines his political team endorsed are "an unwarranted and unfair tax on motorists who are not driving unsafely, but exercising a bit of common sense". Independent Orakei ward candidate Cameron Brewer has chimed in, demanding a review of "the city's entire bus lane policy". The rule restricting left-hand turning cars from not moving into the adjacent bus lane until 50m from the intersection is "crazy" and "not fair or reasonable".
The present round of backsliding comes fast on the heels of official reviews of bus-lane policy along Tamaki Drive, Remuera Rd and Dominion Rd, all sparked by disgruntled motorists.
Mr Moyle misses the point in saying he was driving safely. That's not the issue. Creating a dedicated bus lane is about providing an uncongested, car-free busway, that allows mass transit vehicles to zap large numbers of citizens about the city according to a set timetable.
The current furore is over the 50m rule. Motorists want it extended to at least 100m, and if there are no buses around, waived altogether. This ignores the obvious - that when the lights change to red, the bus lane will, or could, be backed up at least 100m with cars waiting to turn left. Then along come the buses to be stuck, as now, behind a long queue of cars which, even when the light turns green, may have to wait even longer for any crossing pedestrians. By the time the delayed bus hits the intersection, the lights could have changed. If you're going to spend $43 million on a dedicated busway, why would you risk the investment by clogging it up like this at every intersection?
Personally, I'd be tougher and make turning cars stay in the centre lane until the lights turned green and then not allow them to turn left until all buses had passed through.
Motorists should be grateful for their 50m of grace. It's hardly the short space being claimed. And with an intersection looming, drivers should be slowing down anyway.
Some want colour coding on the roadway to mark the 50m, and why not? In Paris, they've gone much further, separating new bus lanes from the car lane with a raised edging. The disadvantages of that would be the cost and the sacrifice of road space involved. But it at least shows that the Parisian authorities are taking the issue seriously.
The reason for the burgeoning passenger numbers on Auckland rail is the increased regularity and speed of the service. With electrification and new rolling stock, this explosion in patronage will continue. Bus lanes are road-based public transport's answer to double-tracking and electrification in one. But to match rail's new popularity, they need to be car-free, so buses can keep to their timetables, and provide regular, reliable and swift service around the city.
If motorists are so envious of the unclogged bus lane they keep straying into, there's a simple solution. Catch a bus. I promise it won't cost $150 a trip. From Mr Moyle's place it's just $1.70.