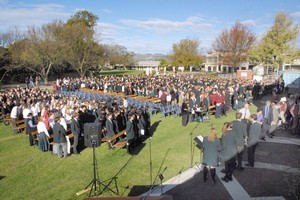 A man sacked from his coaching job at a prestigious Christian school because he was gay says he never felt so small.
The 28-year-old, who did not want to be named, had taken up a role as a netball coach at Middleton Grange School in Christchurch, but was told he could not continue because the board found his sexual orientation to be a problem.
The school says he was given the option of returning to the school, but by that time had already moved on.
"At first I was shocked. I've never felt so small in my life ... I started to kind of blame myself," the man said.
"It's hard enough to go through finding yourself, and accepting yourself and being 'out' in the first place. Having to go through discrimination doesn't help."
A gay rights group says discrimination happens far more than people realise, and it is monitoring a case of another gay man facing this at work.
Middleton Grange School has since apologised and paid an undisclosed sum to the 28-year-old, and board members committed themselves to attending a course on human rights awareness.
The man was hired in February to coach a Middleton Grange girls team. He attended the netball trials and selected a squad.
It is understood that the school board made the decision that he could not remain based on Christian teaching that homosexuality is a sin.
But principal Richard Vanderpyl said he had "huge respect" for the man.
"We're thinking of the impact on him. We get on very well, very amicably. We care for him and respect him.
"The coach was re-offered the position, but in the meantime had, with the assistance of a school staff member, secured another position."
The man said he was "very happy" with the resolution between himself and the school.
He was pleased the people behind the decision had attended a human rights session "so they are aware what they did was wrong and don't do it again".
He said it was not until he spoke to friends that he realised he had been wronged.
"It's similar to saying I can't be their coach because I'm Maori."
He added that many staff and parents at the school did not support the board and principal's actions.
Board chairman Andy Van Amyede declined to comment, citing a confidentiality agreement.
Rainbow Wellington, a group that advocates nationally for gay rights, said that while discrimination on the basis of sexuality could happen often, it did not normally lead to a sacking.
"That would be a pretty extreme case," chairman Tony Simpson said. "What is much more likely - and we are actually monitoring a case at present - is of someone who is being harassed and bullied in the workplace by his fellow workers.
"The problem is that although the law was changed over 20 years ago, it's much more difficult to change social attitudes."
- APN and Jarrod Booker