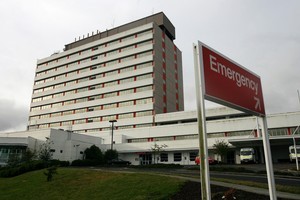 North Shore Hospital's emergency department has struggled to cope with spikes in patient numbers over the past few weeks, with many being treated in corridors.
Nurses Organisation Professional Advisor Kate Weston said more patients are passing through the doors with winter illnesses, but there are not enough staff to cope with the demand.
Ongoing issues around recruiting staff are exacerbating the problem, said Ms Weston, and there is a particular demand for senior nurses.
The DHB needs to consider the pressure emergency department nurses are under, said Ms Weston, and staff the unit appropriately using experienced nurses. She said nurses are finding it demoralising to work in a place where there are so many demands on them.
But the Waitemata District Health Board said it is on the way to meeting Government demands to increase bed numbers and reduce wait times at its hospitals, including North Shore.

Health Minister Tony Ryall has told the board it needs to make speeding up patient services a top priority.


Waitemata DHB chairman Lester Levy told Radio New Zealand the board has put provisions in place to ease the bottleneck, with new beds being added and an emergency department upgrade due to be completed in September next year.

"We are doing everything that's possible and we're not in a situation where we are gnashing our teeth and saying no-one is helping out," said Mr Levy.
"We have got the investment, we have got the dollars and we have got the capacity. We just need time to get these buildings finished. There is definitely light at the end of the tunnel and we'll go from being the worst-equipped [DHB] to being the best-equipped," Dr Levy said to Radio New Zealand

"Our capacity to deal with higher patient numbers now is much better than it was a year ago, but it's not at the place where it will be by September next year."
- NZ Herald staff, Newstalk ZB