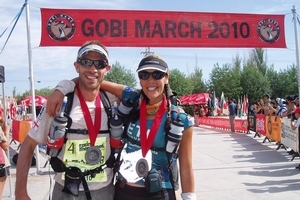 Snakes, scorpions, and packs of wild dogs are just some of the hurdles Kiwi Lisa Tamati faces in the toughest ultramarathons in the world.
And if they don't get her, flash floods, heat, dehydration or simply poor organisation might.
Tamati is back in New Plymouth after finishing the 250km Gobi Desert ultramarathon in China, an event which claimed the life of American competitor, and Tamati's friend, Nicholas Kruse.
He collapsed 1.5km from the end of the fourth stage, and died three days later in hospital.
The organisers' handling of his rescue drew outrage from Tamati and fellow competitors.
In a blog she said: "The organisation was atrocious. Five strong runners offered to go up and get him down but the organisation mucked around and instead eventually sent up doctors, doctors who aren't runners or fast or strong.
"No one was sure what was happening and no one would give us answers.
"Hours later the rescuers came back into camp along with the last of the struggling other runners."
Speaking yesterday to the Herald on Sunday, Tamati said she and other competitors were worried about competing in the fifth stage.
"We were all very scared. That's part of why I made the comments.
"It was going to be three times (100km) as long as the day before. When someone collapsed and we have to do that the next day - everyone was wanting to know what would happen to them,"she said.
Runners did pull out of the fifth stage, worried they might struggle in the tough conditions and risk not being rescued.
But Tamati said brutal and dangerous conditions were part of her sport.
"If you get rain in the desert it can be dangerous because you get flash flooding. More people drown in the desert than die of heat exhaustion."
And wildlife can also cause trouble. "I've had wild dog packs surround me in the Jordan desert.
"Generally, you've got your scorpions and snakes. They're not a huge danger but they're still there."
Temperature is also a major issue, with the Gobi desert course fluctuating from one to 50C.