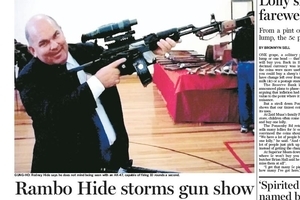 The gun show where Act Party leader Rodney Hide posed with an AK-47 has been banned from using public venues in Waitakere City.
The Auckland Arms Show was planned for Henderson's West Wave Recreational Centre in October but the Waitakere City Council has pulled the plug on the event because it doesn't want a gun show in a place meant for families.
Mayor Bob Harvey said organisers had been told they wouldn't be allowed to use other council facilities either. Auckland's other mayors - John Banks, Len Brown and Andrew Williams - said their councils would likely follow suit if the event organisers tried for a venue in their areas.
Organisers refused to say last night if they would seek an alternative venue.
The gun show, New Zealand's biggest, has been held at the recreational centre for the past six years. Hide drew criticism from anti-gun campaigners when he was photographed with an AK-47 semi-automatic rifle at the 2005 event.
"Our community is concerned about shootings and violent crime," said Harvey. "Putting arms on display right next door to where our children are learning to swim flies in the face of those fears.
"The show sends a message that AK-47s, flick blades and other war weapons aren't just okay, they're part of a fun day out for the family."
Event organiser Tony Daw refused to discuss the decision.
"Keep your nose out of it and go away," he told the Herald on Sunday.
Waitakere's decision follows several gunshot deaths and woundings in recent weeks. Two policemen were wounded and a police dog killed in Christchurch this week, and two weeks ago 44-year-old Keith Kahi was shot dead with a high powered air rifle in East Auckland. Feilding farmer Scott Guy was fatally shot at his gate in the early hours of July 8.
Council of Licensed Firearms Owners spokesman Trevor Dyke said banning a gun show would not reduce crime.
"You could put a total ban on firearms in New Zealand and I guarantee you criminals will still have firearms," he said.
"To us shows like this, which are held all around New Zealand, help to dispel the negative image of firearms. It's not firearms that cause the problem, it's the person who's holding it."
National Shooters Association President Richard Lincoln said: "It seems to me that what Bob is missing is that the people attending the gun show are part of the community.
"He forgets that the peace he enjoys living in Waitakere City was fought and hard won by New Zealanders in armed conflicts around the world bearing the very weapons he objects to.
"It's just a collectible item that's part of history."