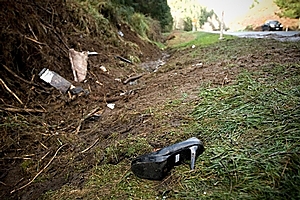 A teenager who walked away from a horror smash that left 11 others in hospital says he woke on the road hearing his friends calling for help.
"I just remember seeing the van totalled and people lying on the road," said Jakob Zohs, 16, of Rotorua.
"I'm pretty upset. I don't want to do it any more ... I don't want to go to parties any more."
The group - which included a New Zealand's Next Top Model contestant - were heading home from a party in Taupo to Rotorua when their van smashed into a bank on State Highway 5.
Zohs said the group of 12 had told their parents they were staying with friends for the night.
The van flipped when it struck a roadside bank yesterday morning, throwing unrestrained teenagers out the side and back doors - and even out of the sunroof.
Zohs said he had fallen asleep in the back of the van and woke lying on the road.
His only injuries were cuts and bruises to his face. Only he and friend Morris Bryant walked away from the crash.
Injuries to the other occupants ranged from broken legs, a broken pelvis, a broken shoulder and a broken collar bone. One of the girls was believed to have hit her face during impact, knocked out all her teeth and also suffered severe internal injuries.
Three of the teens have been transferred to Waikato Hospital while others are recovering in Rotorua hospital.
Waikato Hospital spokeswoman Mary Anne Gill said two of the three teenagers, both 17-year-old men, were in a critical condition in the hospital's intensive care unit and a 17-year-old woman was in a stable condition in the high dependency unit.
The number includes Daisy Sparke, a finalist in the New Zealand Next Top Model show which screens on TV3 at the end of the year.
Zohs said: "I got up and it was just me and Morris ... it's all a blur."
Quick reactions from a passing truck driver have won praise from police for saving the lives of those scattered across the road. The driver blocked off a lane, and called other drivers in the area to warn them. His actions slowed an oncoming truck, which also blocked a lane.
Zohs said he faded in and out of consciousness. "The truck driver was there. I told [the truck driver] I was cold and he put me in his cab. I think I fell asleep and when I woke up there were ambulances. I could hear my friends shouting for help."
Morris' mother Joanne Bryant said she was unclear what happened.
"The kids are all devastated. They're very upset about what happened.
"Most of the kids were asleep. They were on their way back from Taupo. I understand it was raining at the time. It was just an accident. It was just a group of friends who had gone out for a night.
"We particularly want to thank the truck driver who stopped and made sure no other cars came through where the accident occurred."
Daisy's grandfather Paul Sparke said she was last night in Waikato Hospital and had suffered a suspected broken pelvis in the accident.
He was proud of Daisy's efforts in making it through the selection process with New Zealand's Next Top Model: "I know she was in the running, but I don't know if she made it all the way through."
Rotorua Police Area Commander Inspector Bruce Horne said it was too early to know if speed or alcohol was a factor, but the driver is believed to have been sober.
He said the crash happened at around 2.30am yesterday after the driver crossed the centre line, spinning the vehicle clockwise and smashing the front left side into a bank.
"They've somehow lost control and hit a bank and that impact meant they were mostly, if not all, thrown from the vehicle and were found in various positions along the road.
"Many of them were seated on couches in the back of the van, mostly without seatbelts. They also had a boom box in the back with them, and large speakers."
The driver, Aaron Gourlay, was also the registered owner of the van. Six other males - Jesse Howe, Matthew Temm, Morris Bryant, Jakob Zohs, Callum Duffy and Jacob Robinson - were involved in the crash.
The four girls included Ashley Duncan, Hope Archer, Codie McKenzie and Sparke.
Rotorua Hospital spokeswoman Sue Wilkie said a "tremendous" number of staff were called in to cope with the arrival of 12 injured youths.
"The emergency department was exceptionally busy when I turned up at about five. There was quite a scene there."
Waikato Hospital spokeswoman Mary-Anne Gill, where three of the victims were transferred, said "it's been a hell of a day for the trauma room".
"It's pretty traumatic for staff when so many are involved, and especially when they're so young," said Gill.
Meanwhile, police have released the names of two men killed in a head-on car crash on Friday. Andrew Michael Turnor, 69, from Tauranga, and Darryl Patrick Jackson, 68, from Wairoa, died after their vehicles collided on State Highway 5 between Taupo and Napier.
Jackson's female passenger was airlifted to Hastings Hospital in a critical condition.
- Additional reporting: Heather McCracken, Kieran Nash, Matt Nippert and NZHERALD STAFF