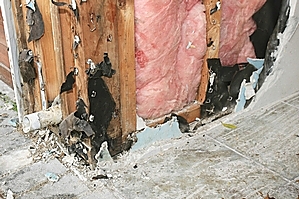 The Supreme Court will hear one of the most significant leaky building cases, granting leave this week for the North Shore City Council to mount challenges against a ruling.
The council will try to overturn a Court of Appeal decision which favoured leaky-building victims at Takapuna's Byron Ave townhouses and Mairangi Bay's Sunset Terraces apartments.
Chief Justice Dame Sian Elias, Justice Peter Blanchard and Justice John McGrath of the Supreme Court granted leave for the council to appeal but disallowed a Blue Chip business, Blue Sky Holdings, from appealing against the Sunset case.
At issue will be whether the council, in performing its regulatory functions under the Building Act 1991, owed a duty of care to unit buyers to ensure the places complied with the Building Code.
But the judges disallowed Blue Sky's appeal which sought to challenge the council for being negligent in issuing a Land Information Memorandum.
An organisation representing leaky building victims criticised the council's decision to challenge the previous court ruling.
John Gray, Homeowners and Buyers Association president, accused the council of shirking responsibilities and penalising victims.
"If this appeal succeeds, it will change the landscape for those investor-owners or subsequent owners seeking to recover their losses for leaky or defective buildings from any of the councils throughout the country. Councils have responsibility, as building consent authorities, to ensure they properly inspect a property during its construction.
"They continue to defend what we say is the indefensible when it comes to their abject failure to understand and properly discharge their duties under the Building Act.
"The council is seeking to minimise its liability owed to investor-owners and to subsequent owners in apartment or terraced housing-type complexes such as the Sunset and Byron complexes by arguing that investor owners are entering into a commercial transaction and therefore the council's duty of care is removed.
"This is a purely legal attempt at ring-fencing their liability in these matters and turning their backs on their failures. It certainly is not justice. We say there should be no distinction made between 'Ma & Pa' investors and 'Ma & Pa' owner/occupiers. They all have a huge reliance on councils' diligence and competence," he said.
North Shore mayor Andrew Williams has said his council's insurer, RiskPool, had decided on appeals and was driving the litigation.