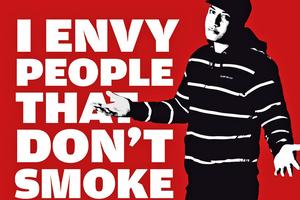 Funding of anti-smoking initiatives has been cut by the Government by $12 million, with the agency that runs the successful Smoking - Not Our Future campaign bearing the brunt.
While the Budget's tobacco tax increase will boost Government revenue by $205 million annually, the Budget also cut $3 million a year over the next four years from tobacco control spending, Treasury documents show.
Ian Potter, chief executive of the Health Sponsorship Council, said his tobacco control budget would fall by $2.5 million to $5.5 million a year because of the cuts.
The agency runs the Smoking - Not Our Future and Face the Facts television campaigns.
The cut follows reductions in funding the council receives for its anti-obesity campaigns which stood at $3.7 million annually two years ago but is now $1.1 million.
Nevertheless, Mr Potter said the council would be able to draw on cash reserves and would benefit from lower advertising rates and therefore could maintain its anti-smoking and obesity campaigns. However, it expects to spend $5.8 million promoting its anti-smoking message in 2012, down from $8 million last year.
"Any reduction means you're able to do less but we are still confident we can do good work with what budget we have left, we'll just have to be more innovative."
Health Minister Tony Ryall said the cuts were part of a shift from "lower-value spending" to improve frontline services.
"For example, the amount spent on nicotine replacement drugs is expected to cost $7.5 million this year, which is significantly more than the $2 million less of advertising that the HSC will be doing."
Mr Potter believed the council was achieving "good results" in persuading people not to take up smoking and encouraging them to give up.
"We think we're adding value to tobacco control in what we do but we accept that it's difficult to demonstrate that value."
Anti-smoking group Ash will release figures this week showing a steady decline in smoking rates for all young people and director Ben Youdan said there was "absolutely no doubt" that Not Our Future and other campaigns were helping drive that.
"The role they fill is that constant noise about quitting smoking and the harm tobacco's causing and it's a really important component of the tobacco-control mix."
Frontline smoking cessation services such as Quitline relied on the council's work to advertise and prompt smokers to quit, Mr Youdan said.
Labour health spokeswoman Ruth Dyson said the council cuts would result in short-term savings.
"Cut this much now and we know that we'll get fewer people giving up smoking, we know the costs of that long term to the individuals and the health system. This is very poor planning."
The numbers:
* $12m cut in funding for anti-smoking initiatives
* $205m increase in revenue a year from tobacco tax rise