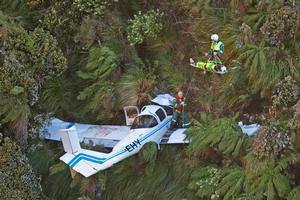 Two men were lucky to survive an air crash yesterday that left their wrecked plane pined between two trees and balanced precariously on the side of a cliff during a delicate three-hour rescue.
An 18-year-old trainee pilot and his instructor, 30, were taken to Palmerston North Hospital after the crash in the Pohangina Valley, 28km from the city.
The critically injured instructor was moved to Wellington overnight after his condition worsened. The man is undergoing surgery this morning. A spokeswoman for Capital and Coast DHB said the man would be in the operating theatre for the next "few hours".
The trainee was seriously ill with chest and leg injuries and had surgery last night. A spokesman for the Mid Central DHB said he was in a serious but stable condition in the intensive care ward.

St John advanced paramedic Steve Yanko said he was surprised anyone survived the 1pm crash, given the rough terrain and precarious position of the wreckage.
"It was a heck of a drop - about a 45- to 60-degree angle. They were just hanging there. [The plane] was precariously perched between three or four trees. If it weren't for those holding on to it, I don't know what would have happened."
Mr Yanko, who suffered a twisted ankle during the rescue, said both men were unconscious when help arrived. It was three hours before the Square Trust rescue helicopter winched them out.
Paramedics used the crashed plane's wings as makeshift hospital beds as they worked to stabilise the pair.
"They were still in there and it was a very dangerous site, so we had to treat them there ... I was on one wing and [the other paramedic] on the other. You just couldn't move - it was so dangerous."
Rescue pilot Fergus MacLachlan said the instructor was unable to speak and the trainee pilot "just felt all guilty".
"His whole mind was, 'Oh crap, I'm on a flight test and I failed because we crashed.'
"They were pretty cold. There was snow up there ... I definitely don't think they would have survived a night in that cold weather."
The two-seater Piper Tomahawk - a low-winged aircraft typically used for training - was on a commercial pilot's licence training flight from Hastings Airport. It had been due to return there about 12.30pm and was reported overdue about 12.45pm.
Air traffic control reported detecting the downed plane's signal about 10 minutes later.
Two Square Trust rescue helicopters were sent to the crash site, which was not accessible by road.
Mr MacLachlan said his helicopter flew twice around the scene, before crew spotted someone waving from the wreckage.
"I looked down and just was hoping that we could find someone alive. We saw one of them waving and so we knew at least one of them had pulled through."
Mr MacLachlan said the trainee pilot managed to "belly" the plane into a hill, wedging it between two trees and saving the pair from a more severe crash.
The pair were lucky to have been found only 20 minutes after the search started, and that the helicopter was able to reach them in the difficult, tree-covered valley.
The helicopter landed on a creek bed below the crash site and a paramedic and crewman hiked up to the wreckage.
Rescue Co-ordination Centre search and rescue officer Chris Wilson said it appeared the plane had made a forced landing after encountering difficulties.
Civil Aviation Authority spokeswoman Emma Peel said a team led by experienced investigator Steve Walker would begin its investigation into the crash this morning.
She said the investigators would tramp about 30 minutes into the site this morning accompanied by a search and rescue team.
"They've got to get onto the scene and start looking at the terrain, and the position of aircraft in relation to the terrain, and whether there's skid marks on the snow.
"If it snows overnight then obviously that will affect that, so there's all sorts of variables that they'll have to consider."
Ms Peel said the aircraft would have to be secured before investigators could safely get in amongst the wreckage.
"They will be there most of the day," Ms Peel said.
She said the wreckage could be moved by a high-powered helicopter but would first have to be assessed to make sure it did not break up.
It would be some time before a final report was released.
A 5km no-fly zone has been established around the crash site and Occupational Safety and Health has been notified.

- additional reporting: Alanah May Eriksen, NZHERALD STAFF and NZPA