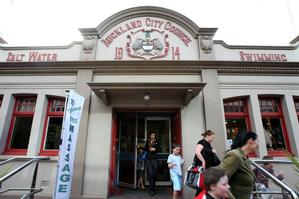 The cost of redeveloping Auckland's Tepid Baths has increased by $3 million.
Auckland City Council had set aside $12.6 million to modernise the 100-year-old baths. But Councillor Greg Moyle, chairman of the arts, culture and recreation committee, said yesterday the cost had risen to $15.8 million.
However, the upgrade will now finish in June 2012 - two years earlier than expected.
Mr Moyle described the baths, which opened in 1914, as "part of our heritage", and said the extra money would ensure that the baths - "the only pool in the CBD" - were not just decoration. It would also increase use of the pool in the long term.
Mr Moyle said it was important that the upgrade began as soon as possible, because of the changes that would come with the Super City.
Under the new council rebuilding the baths probably would not be a priority.
"There was a possibility that if the pool was shut when the new council came in, it would never reopen."
However, if the construction had begun by the time of the transition in October, the upgrade would be in many ways a fait accompli.
The redevelopment includes the replacement of the steel roof framework, concrete in the pools, columns and beams.
The internal layout will be modified, changing rooms upgraded, fitness space improved and new water treatment equipment installed.
Gary Gotlieb, a lawyer and member of the Tepid Baths Supporter Club, said he was pleased with the plans. "If you're going to have a Super City, you've got to have a super pool. Before, people would look at the upgrade and say 'not bad' - now it will be a great asset for the city."
City Vision leader Councillor Richard Northey said the Tepid Baths were an important part of central city life, and the committee had obviously thought that the plan would be cost-effective in the long run.
"It seemed to me at the time to be a perfectly reasonable decision. It still does."
Mr Moyle said changes to the baths' fitness facilities, which would create a "bigger, more usable fitness space", could mean that ratepayers did not have to subsidise the baths. "It might even make a profit."
Mr Moyle said the upgrade would reduce the need for maintenance.
"The Tepid Baths will continue to be enjoyed by Aucklanders and visitors alike for another 100 years."
Details of the draft designs are available on the council website as well as at the Central City Library and the civic administration building. The public can comment on the plans until July 30.
Construction is expected to begin in October and the facility is expected to reopen in 2012.