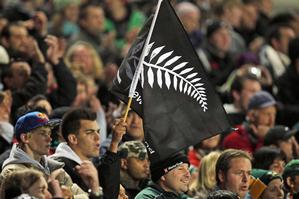 Two tests were held last night at Eden Park - one on the pitch and another outside the ground.
For 25,000 fans at the stadium, it was the result between the All Blacks and the Springboks that mattered.
But for Rugby World Cup planners, the real test was how a beefed-up public transport system coped with an estimated 7000 people travelling to the match - just a fraction of the numbers who will rely on buses and trains to the World Cup.
An extra 47 trains ran before and after the game, on top of 26 scheduled trains.
The Auckland Regional Transport Authority said it was a major test run for next year.
Rugby World Cup transport director Bruce Barnard was pleased with the result. Pedestrian flow around the park was good and trains ran well.
However, he said a full train still unloading at 7.10pm when kick-off was 20 minutes away showed fans needed to arrive earlier. "We need to encourage people to get to the match a bit earlier."
And getting fans away after the match proved more difficult than getting them in.
The Herald on Sunday watched as one group, impatient at queuing while the station platform cleared, bashed through barriers and past security guards.
Staff let crowds flow freely into the station, but trains quickly cleared the queues.
Next year, when 60,000 fans are expected to pack Eden Park, organisers aim for 45,000 people to use public transport. That will mean 1000 people at a time packing the platforms at Kingsland station, with trains leaving every five minutes.
Barnard said the system last night could carry up to 12,000 people, but about 7000 were expected to use buses and trains.
"We're showing the rest of the world that Auckland has the capability to run major events and have a public transport network that will provide an easy and hassle-free way of getting to and from the game."
Bus and train passengers were given free transport if they had a ticket for the game.
Kingsland station reopened this week after a $6 million upgrade. Patrons would be "corralled" into the station to avoid a crush, Barnard said. "We have crowd management barriers so we don't get pushing and shoving," he said.
Special services to Eden Park stopped only at Grafton and Kingsland, angering bar owner Warren Stewart from Mt Eden's Horse and Trap.
Local bars and restaurants normally enjoyed a healthy pre-game crowd, who then took the train to the match, he said.
"We've been trying to develop that over 20 years and it's been very successful over the last 15."
Fans walking from Kingsland could also cut a few minutes off their walk by taking the new Wairepo Swamp Walkway between Sandringham and Walters Rds.
The $2.7m walkway was opened for the test, but will be closed again for more work. A restricted traffic area meant roads around the stadium were closed to cars, and bus patrons were dropped off near Sandringham Rd.
Transport on track for World Cup
Rugby fans gave the thumbs up to last night's transport to the Eden Park test.
Rob Thompson came from Kaitaia with his family to watch the All Blacks game.
He said the train service from Britomart was great, although the trains didn't leave every 10 minutes as promised. "It didn't matter but they said every 10 minutes so we expected to jump in and go."
The bus service from the North Shore also ran smoothly.
Kerry Fitz-William caught the bus from Albany and said it was "awesome". "We had to stand but we didn't mind."
Anna Heunes said the train trip went well. "It was quite full but very good."
There was one hiccup with trains stopping at Mt Eden station.
Jean-Micheal Tallott went to catch the train from Mt Eden Station only to find some services weren't stopping there.