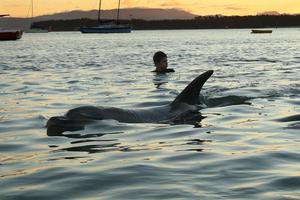 As the cause of Moko's death is determined, a debate has begun on where the solitary dolphin's body will be buried.
The 4-year-old bottlenose will undergo an autopsy at Massey University in Palmerston North. A result is expected in several days, says the Department of Conservation.
The playful and often petulant dolphin spent most of its life in Mahia since first appearing in 2007, as well as a summer in Gisborne.
After a short time in Whakatane's waters he was found washed up on Matakana Island, near Mt Maunganui.
Now Bay of Plenty and the Hawkes Bay are tussling over the right to have the dolphin buried in their regions.
Whakatane Harbour superintendent and former Moko minder Peter Cavanagh has asked DoC to return the body to Whakatane for burial.
"We already have the headstone," he said, referring to a stone carving of the bottlenose dolphin purchased by the Whakatane Community Board.
But Mahia Maori, a committee that is responsible for dolphins and whales in the Hawkes Bay, said Moko should be returned to the place where he was first seen.
The first person to spot Moko, Mahia resident Bill Shortt, said Whakatane's attempt to claim the dolphin was absurd.
"He was at Mahia for 2 years, and only a few months in Whakatane. This is his home. He was named after the headland."
A couple of burial spots have already been mooted. Mr Shortt said a council reserve on the Mokatahi headland was an ideal resting place.
Mahia Maori suggested that Moko be buried in front of the Mahia fishing clubhouse where he spent most of his time playing with swimmers.
Department of Conservation spokeswoman Katrina Knill said the matter of burial had been left to the regions' iwi leaders.
While Moko's decomposed body means a diagnosis is difficult, his young age led marine scientists to predict that his death would be found to have resulted from an accident.
He died near Tauranga Harbour, a busy shipping lane and fishing spot.
Mr Shortt said that the eagerness of some bottlenose dolphins, such as the famous Pelorus Jack and Opo, to play with humans elicited mixed feelings.
"Solitary dolphins always end up in trouble. Pelorus Jack was shot at, and people suspect Opo died by human hand.
"Moko had the ability to swim fast under boats' hulls. He had two collisions down here, so maybe this was one too many."
Dolphin expert Wade Doak said that as Moko's story faded away, another marine mammal would inevitably capture national attention.
- additional reporting by NZPA