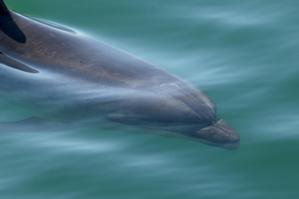 The carcass believed to be of much-loved dolphin Moko has arrived at Massey University in Palmerston North for an autopsy.
Katrina Knill of the Department of Conservation said a karakia was given in Rotorua this morning by Pouoto Ngaropo, cultural advisor for Ngati Awa, before Moko was taken to Palmerston North.
Marine mammal pathologists Wendi Roe and Stuart Hunter will be performing a necropsy (the non-human version of an autopsy) on the carcass.
"We know how important and special this dolphin has been to so many people and feel privileged to be able to be a part of his story," said Ms Roe. "We will treat his body with the utmost respect as we work to gather what information we can about the nature of his death.
"The carcass has started to decay and may have been dead for several weeks, so there is a reduced chance of making conclusive findings."
The necropsy is expected to be completed next week, when results will be made available.
DOC said the final resting place for Moko's remains has yet to be decided, but "discussions amongst iwi representatives have begun and details will be worked through by iwi, DOC staff and community leaders from Wairoa, Gisborne, Whakatane and Tauranga over the next few days".
Whakatane Harbour superintendent and former Moko minder Peter Cavanagh has asked DOC to return the dolphin's body to Whakatane for burial, the Whakatane Beacon reported today.
"We already have the headstone," he said, referring to a stone carving of the bottlenose dolphin purchased by the Whakatane Community Board.
But Mahia Maori, from the northern Hawke's Bay, are also pleading to have the body of Moko returned to Mokotahi headland, to be buried near the place after which he was named and where he grew up, the Gisborne Herald reported.
Wiremu Blake, the member of the Mahia Maori committee responsible for dolphins and whales, said Mahia was where Moko was first seen and where he first played with the children.
The community had a special connection with marine mammals through their ancestor Ruawharo, the tohunga (high priest) on Takitimu, who was guided to Mahia by dolphins and whales when they first came to Aotearoa.
- NZ Herald staff and NZPA