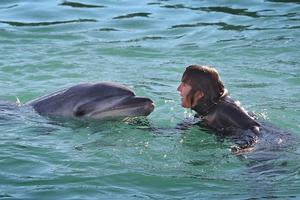 Both Bay of Plenty and the northern Hawke's Bay are vying to be the final resting place of Moko the dolphin.
The Department of Conservation (DOC) yesterday said a decomposing carcass washed up on Matakana Island, north of Mount Maunganui, was "probably" Moko.
Whakatane Harbour superintendent and former Moko minder Peter Cavanagh has asked DOC to return the dolphin's body to Whakatane for burial, the Whakatane Beacon reported today.
"We already have the headstone," he said, referring to a stone carving of the bottlenose dolphin purchased by the Whakatane Community Board.
But Mahia Maori, from the northern Hawke's Bay, are also pleading to have the body of Moko returned to Mokotahi headland, to be buried near the place after which he was named and where he grew up, the Gisborne Herald reported.
Wiremu Blake, the member of the Mahia Maori committee responsible for dolphins and whales, said Mahia was where Moko was first seen and where he first played with the children.
The community had a special connection with marine mammals through their ancestor Ruawharo, the tohunga (high priest) on Takitimu, who was guided to Mahia by dolphins and whales when they first came to Aotearoa.
After landing at the peninsula Ruawharo was able to call dolphins and communicate with them, Mr Blake said.
The arrival of Moko as a juvenile in 2007 was therefore of special significance to tangata whenua, he said.
"We consider that we carry the mauri for dolphins and whales in Mahia."
He has already been in touch with department heads in Hawke's Bay and the Bay of Plenty over Moko's burial arrangements, and plans to appeal to Dr Pita Sharples and Te Puni Kokiri Tairawhiti chief executive Mere Pohatu for help in bringing Moko home.
They wanted Moko to buried there in front of the Mahia fishing clubhouse near the ramp where he spent most of his time playing with friends.
Since arriving in Mahia in 2007 Moko had delighted thousands of people - and ruffled a few feathers - with his love of human company and playful antics.
He spent an eventful summer entertaining in Whakatane and left last month, making a brief appearance at Mount Maunganui before disappearing.
DOC spokeswoman Katrina Knill said the carcass was removed from the beach yesterday and would be kept in cool storage overnight.
It was hoped to arrange an autopsy at Massey University today.
The department was aware a large number of people felt strongly connected with Moko and that interest was building about what would be done with the remains.
"We'll be looking into what's most practical and appropriate over the next few days," she said.
Ms Knill said she was not aware of Mr Cavanagh's request, but said DOC would consult a range of parties including iwi before deciding the fate of the remains.
- NZPA