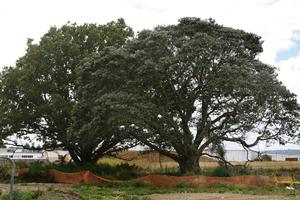 An old Avondale pohutukawa tree has been protected against a business park development following costly community protests that reached the High Court.
The Auckland City Council city development committee yesterday voted unanimously to immediately work towards scheduling the tree for protection.
Without public consultation, the council approved in February the removal of the almost century-old tree on Rosebank Rd.
This sparked protests and petitions, with the Tree Council community group challenging the decision in the High Court.
The pohutukawa will now be temporarily protected before it is listed in the district plan for protection.
Tree Council chairwoman Sigrid Shayer said she appreciated the committee's decision, but felt the $6000 the group spent on legal costs to have a say was an injustice.
"What is shameful is that we have had to go to such lengths when it was obvious that this opportunity to have our say should have happened at the beginning," Ms Shayer said.
"This action would not have happened if the community had not demonstrated its support for these trees."
Rosebank Rd's pohutukawa stands next to an old oak, which was also marked for protection yesterday.
The Tree Council provided historical research and an arborist's report that were used in the council officers' presentation to yesterday's meeting.
Councillor and committee member Glenda Fryer, of City Vision, said the council only acted after it was "embarrassed" by protests, including a 1200-person petition.
However, the chairman of yesterday's meeting, Aaron Bhatnagar of Citizens and Ratepayers, said it had been a councillor's suggestion that led to an assessment of the tree's heritage value.
Local councillor and Super City candidate Noelene Raffills, also of Citizens and Ratepayers, had suggested that the tree was "quite special", Mr Bhatnagar said.
From 2012, trees taller than a certain height will lose automatic protection that prevents them from being chopped down without a permit.
Trees will only be protected if they are individually listed in the district plan.
The Tree Council also petitioned yesterday's meeting to have the council buy about an acre of land around the tree to turn into a public space.
This request has been referred to the arts, culture and recreation committee.
A motion to compensate the Tree Council $3000 for their High Court action was voted down by the committee chairman after a split vote. Three of the six councillors voted against the motion.