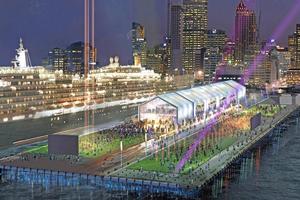 It's time Prime Minister John Key popped the dummy back in Murray McCully's mouth and sent him off to the Chris Carter home for over-stressed politicians.
Threatening to take all his toys back to Wellington if Aucklanders don't kowtow to his "giant slug" proposal for the "party central" venue on Queens Wharf is just infantile. If this is what passes for negotiation in Foreign Minister McCully's world, the whales are surely doomed.
The Auckland Regional Council, in consultation with the Historic Places Trust and Jasmax, the designers of the slug, have come up with a revised plan for Queens Wharf which ticks all the boxes.
It renovates and gives new life to Shed 10, which will please the heritage minded.
It creates a permanent cruise ship terminal within the year - instead of some time after the Rugby World Cup, which is the earlier plan. It also delivers a venue for "party central" of the same dimensions as Mr McCully's slug.
All for a cost of $17.8 million.
Compare that with Mr McCully's proposal, which is to build a temporary structure for $9.6 million which will be pulled down afterwards. Shed 10 will have to be demolished in the process. The legacy, after the rugby, will be an empty wharf. A cruise ship terminal will then have to be built from scratch.
Both plans involve the removal of the smaller Shed 11. But at least the new plan means the $9.6 million will be invested in a useful permanent facility, not wasted.
Instead of embracing the plan, Mr McCully has spat it back in ARC chairman Mike Lee's face, threatening that if he doesn't have his way entirely, the ARC should buy the Government out of its $20 million half-share in the wharf, and commit to building a World Cup fanzone "regardless of cost".
Yesterday's compromise proposal for both is a ridiculous waste of public money. It proposes Mr McCully's slug be built alongside the renovated Shed 10 and we end up with two party centrals and two cruise ship terminals. The only victor here is Jasmax, the designer of both.