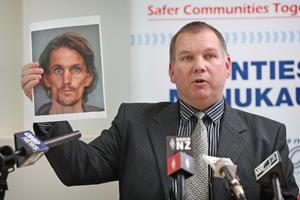 Police are investigating whether the execution-style killing of a man in South Auckland was drug-related.
Yesterday, they released the name and a photograph of a man wanted in connection with the death of Keith Kahi, 44, on Sunday night.
Glen Michael MacDonald, aged 42, has been missing since Mr Kahi was shot multiple times outside Mr MacDonald's house in Tullis Place, Burswood, near Botany Downs.
Detective Inspector Mark Gutry said MacDonald was the sole occupant of the house but "from time to time other people stayed there with him on a short-term basis".
MacDonald had left the address in a 1993 black Isuzu Bighorn with silver trim along the bottom, registration YH8276, on Sunday night and had been using it since.
Asked if the killing was gang- or drug-related, Mr Gutry said: "We have no information to suggest this is gang-related. We always leave the options open as to what might have occurred in relation to drugs or anything else but at this stage we are dealing with the homicide."
He also revealed that a gun recovered at the house on Sunday was believed to be the weapon used to kill Mr Kahi. He warned people not to approach MacDonald but he did not believe he was armed.
The two men were known to each other and police were "working through" why Mr Kahi had visited the address.
The family of Mr Kahi, who was not married and had no children, were distraught, Mr Gutry said.
"It's a loved one to them who has been killed so they're obviously very distraught but they're working through their grief."
Mr Kahi's last known address was in Mt Roskill.
Anyone with any information is being urged to phone the Manukau police on (09) 295 0200 or the anonymous Crime Stopper line on 0800 555 111.