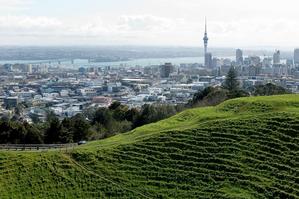 Auckland - and particularly Queen St - are taking a pasting on social media, with tourists describing the city as "shit" and "a poor introduction to just how amazing New Zealand is".
The main thoroughfare is lambasted on travellers' forums. At Lonely Planet's Thorn Tree, Little Vixen from Australia complains: "Queen St was horrible and soulless."
Harry Ramsden posts: "Queen St was pathetic. It may be the main shopping street in the CBD but it looked like every other shopping street with no special shops or atmosphere to recommend it."
The writer returned a few days later to add: "Every guide book recommends Queen Street. Every guide book is wrong."
At a blog for English Language teachers, people respond to a Canadian asking whether Auckland would be a good place to live:
"Auckland is shit.
Hardly anyone there is happy, too busy thinking about making money ... the city is poorly designed, too spread out and the public transportation is the pits," writes Mr Bojangles.
Dr Simon Milne, who heads the NZ Tourism Research Institute at Auckland University of Technology, says social media has become a new, powerful, word of mouth.
He says monitoring internet blogs, opinions and comments is crucial for tourism organisations if they have the resources to do so.
Tourism Auckland chief Graeme Osborne appreciates the value of cyber chatter but is hamstrung by a small budget.
"It's definitely the way the world's moving [but] we just don't have the resource to scan the world's chatter sheets."
Full story - The Aucklander and www.theaucklander.co.nz