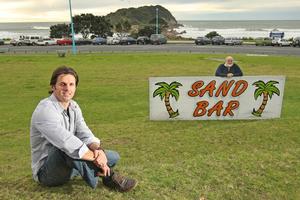 Competition for a prime beachfront entertainment spot on Mt Maunganui is heating up, with the council keen to maintain order over the volatile New Year period.
The Sand Bar, a makeshift pub which used to occupy the reserve next to Mt Drury, is vying with the local YMCA for the right to operate on the site. The Sand Bar served beer and hosted live music on the reserve for eight years before being controversially scrapped last year.
Police recommended the bar be closed because it was outgrowing its site but the decision was met by howls of indignation from the local community.
Its owner Clayton Mitchell was now asking the Tauranga City Council to reinstate The Sand Bar.
He said the bar was a positive alternative to the street and beach drinking culture which used to trouble the Mount over the summer period.
Tauranga YMCA was proposing a family village, youth zone, and holiday programme on the site.
But chief executive Amy Thaler said it could not afford to run a village on its own funding, and was considering a joint proposal with the bar's owners.
Mayor Stuart Crosby told the Herald that police had expressed concern with the large crowds who were drawn to the Sand Bar - up to 8000 at peak times.
"It became an attraction in itself, and required a lot more management from police."
The bar was set up in December 2000 against a backdrop of rioting and drunken behaviour during the millennium celebrations.
It hosted radio stations and live acts, and gave people a chance to legally drink within metres of the sands. The surrounding area was controlled by a liquor ban.
Mr Mitchell said in eight years of operation there had been "not a single arrest nor a cut foot" at the bar.
"Police warnings of 'potential danger' never eventuated. People are still going to come down to the beach and drink, and ... when [the bar's] not there, it's much messier."
The Sand Bar and YMCA will make their proposals to the council's Summer Activity Taskforce on July 21.