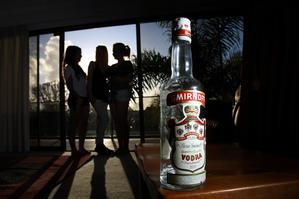 Drunk youths are turning up at Auckland emergency rooms at the rate of almost one a day, Auckland District Health Board statistics show.
A spokesman yesterday told the Herald 340 drunk people aged 15 to 20 were assessed at the district's hospitals last year. The figure was approximate as alcohol-affected patients were often also injured or suffering from another complaint, making it difficult to single them out, he said.
A source said that although he could not provide direct comparisons, admissions had run at about this level for the past few years.
The source said that Auckland City hospitals tended to deal with a lot of people who had travelled into town to drink.
The figure was disclosed as the Government considered making it illegal for adults to give alcohol to under-age drinkers without parental consent.
South Auckland booze bosses are also planning a region-wide forum about next year's school ball season.
The issue of illegal and excessive drinking at after-ball parties gained national attention this year after police shut down a Pakuranga College event and then cracked down across the board.
In a letter to 40 Auckland schools they warned that any event where alcohol was provided to minors and tickets sold to gain entry was illegal. But despite warnings the $55-a-head Pakuranga event was held in a vacant warehouse.
Liquor licensing staff and police visited schools and appealed to parent committees to abide by the law, resulting in the cancellation of more than a dozen after-ball parties.
But authorities were not resting on their laurels, said Paul Radich, of the Manukau District Licensing Agency.
"We're confident that we've made the ball season safer this year but we've obviously got some work to do in coming years to make sure that it doesn't slip to this $60 all-you-can-drink scenario," he told the Herald.
Justice Minister Simon Power said this week it was not National's business of "getting into people's homes" but the drinking landscape had changed and legalising parental consent could be an option.
"The sheer proliferation of outlets and the time that liquor is now available definitely changes the framing of this debate," he said. Mr Radich said the forum would outline the legal way to hold after-ball functions.
"It will be in the short to medium term and we will ask all principals, all school ball organising committees and all private providers region-wide in for a meeting," he said. "So we can say, right, this is the way forward and this is the stand region-wide this year, we need to strike while the iron's hot."
Mr Radich was shocked by the attitude of a number of teens to drinking.
"I have heard some comments about kids' dreams being shattered because they won't have alcohol there [at after-balls] and that just reinforces the fact that the position we've taken is the lawful position and it's the right position.
"To have your dreams shattered because alcohol is not going to be at a particular venue when you're 15 years old is frankly beyond me."
His staff were working with the Alcohol Advisory Council (Alac) but had not yet set a date or advised schools of the forum.
Mr Radich said while most private party organisers were now toeing the line, a few remained blacklisted.
"We have information about a couple of providers who will need to comply with the law, otherwise we will be asking police to take action.
"The issue is locating and catching them in the act."
Alac chief executive Gerard Vaughan supported the proposal.
"We support the fact that if you're under 18 and someone is supplying you with alcohol you need the consent of a parent or guardian and if you're going to supply alcohol then you supervise the event."
CRACKDOWN
* Region-wide forum to be held laying down law for next ball season.
* Justice Minister Simon Power considering making parental/guardian consent compulsory for under-age drinking.
* At present under-18s can be given liquor without consent at private functions.