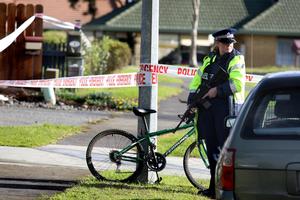 Police are urging the occupants of an Auckland house where a man was shot and killed to come forward.
A middle-aged man was found by a neighbour with gunshot wounds to his chest about 7.45pm on Sunday night. The man's body was at the end of a long driveway almost on Tullis Place in Burswood, near Botany Downs.
Emergency services tried to save the man but he died later in hospital.
Police don't believe he lived at the address and are appealing for the occupants to contact them.
Detective Inspector Mark Gutry, of Counties Manukau police, said the victim hadn't been identified.
"We do have a name and we're still working to confirm if it is that person."
Mr Gutry said police wanted to speak to the occupants, or any witnesses to the shooting.
There were people at the house at the time of the shooting who left the address before officers arrived, he said.
It was not thought there was a function or party at the address, "but we have one dead and we believe this is a homicide, so certainly there were other people there or thereabouts at the time".
He did not believe the killing meant there was a threat to public safety. "We're certainly looking [that] all these people are known to each other."
A gun was found in the house but it has not been confirmed as being the one used against the man.
Tullis Place resident John Danks told the Herald last night the only occupant he knew at the house was "a bit of a loner".
"He kept mostly to himself and wasn't sociable." The European man had lived there several years and was in his late 30s or 40s.
Mr Danks met him only once, when he dropped off some mail to him. "He was fairly abrupt when I took him the letter and didn't bother introducing himself."
The man did not bother anyone and did not have friends over very often, he said.
The street remained cordoned off late yesterday as forensic teams continued a scene examination. The cordon was expected to stay in place for several days and was being guarded by armed police.
Residents said they were shocked by the killing in the usually peaceful, quiet street.
An autopsy on the man has begun and would continue today, but police would not say how many times the man had been shot.
* Anyone with information is asked to ring Counties Manukau police 09 211 300 or Crimestoppers on 0800 555 111.