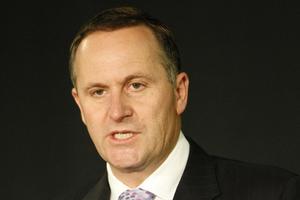 Prime Minister John Key and South Korean President Lee Myung-bak today agreed they wanted progress on free trade negotiations but little has been done to ease Korean fears over New Zealand's agriculture sector.
Mr Key said he was quietly optimistic a free trade agreement (FTA) with Korea would be achieved because the South Koreans valued New Zealand's commitment here since the Korean War.
Negotiations over the FTA began last year when Mr Lee visited New Zealand.
Talks have largely stopped since because of Korean fears about New Zealand's agriculture sector.
Despite being the sticking point agriculture was barely mentioned in the joint statement issued by Mr Key and Mr Lee.
The statement, issued after they met today, said they had discussed progress on the FTA and reaffirmed an expectation that negotiations be concluded as early as possible.
They agreed to promote co-operation in energy and natural resources by using the potential for co-operation and welcomed the expansion of bi-lateral co-operation in infrastructure, particularly broadband.
The statement also mentioned deepening co-operation in education, culture, film, information communication technology and research and science -- particularly in the areas of climate change, agriculture and forestry.
That was the only mention of agriculture in the statement.
Mr Key has said he does not believe New Zealand goods, particularly agricultural ones, would compete with domestically produced ones in Korea.
He sees New Zealand's exports to Korea in competition with those from the United States, European Union and Australia.
"New Zealand can't, and shouldn't in our view, be put in an uncompetitive position compared to those other countries.
"Ironically this isn't actually New Zealand competing with Korean agricultural producers, it's New Zealand competing with these other countries."
Tariffs on goods entering Korean were huge - between 100 and 300 per cent, he said.
If the other countries signed an FTA their goods would be much cheaper than those of New Zealand.
"They could literally price New Zealand out of what is the 13th largest economy in the world."
The Government would not sign up to an FTA that did not include agriculture, Mr Key said.
"Always you'll get a fear factor that develops within agriculture domestically that New Zealand, because of its prowess, will somehow do damage to them.
"The difference between fact and fiction is quite enormous but that doesn't mean that a fear campaign can't and won't be run," Mr Key said.
Mr Lee had staked his leadership on expanding free trade. He is halfway through his term so New Zealand needs to act now to capitalise on his presidency.
Mr Key said Prime Minister Chung Un-chan was also very constructive about the prospect of an FTA when they met earlier today.
"The prime minister was quite firm in the view that New Zealand shouldn't be put in a worse position," he said.
Two-way trade between New Zealand and Korea was worth about $2.6 billion annually.
New Zealand exporters pay $195 million in tariffs while Korean exporters pay $5 million for goods taken into New Zealand.
Mr Key said the New Zealand economy was dominated by small and medium sized businesses which felt more comfortable expanding to Australia rather than Asia.
A FTA with Korea would help to break down some of those barriers, he said.
- NZPA