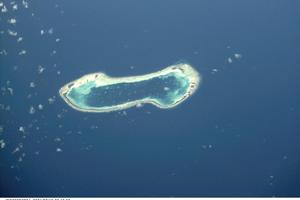 A double-pronged aid effort is getting up a head of steam in Tuvalu this week, as more than 300 New Zealand Defence Force staff descend on the tiny nation north of Fiji and nearly 4000km from New Zealand.
The army, air force and the HMNZS Canterbury, along with NZ Aid, police, the Red Cross and the Ministry of Health, are taking part in Operation Tropic Twilight 2010, which assumes the low-lying islands have been hammered by a tropical cyclone.
Under the exercise, the islands have been inundated, and like Samoa last year, in desperate need of help such as more surgery capabilities, temporary shelter for homeless residents. Ruptured septic tanks mean possible contamination of water supplies - threatening a cholera outbreak.
The army's Major Mark Walters, the lead planner for Tropic Twilight, said the exercise could have been carried out on the Chatham Islands, but operating in Tuvalu meant the force was exposed to the real problems of being far away from New Zealand - problems they had to overcome now, rather than having to in a real life disaster.
They had struck problems with satellite communications, while divers evaluating potential damage to the wharf found their computer equipment was overheating in the 30-deg Celsius heat, and they were having to put it in the freezer to cool it down.
But the exercise is not just about responding to an imaginary disaster. Tropic Twilight is also being used to deliver a number of NZ aid programmes to Tuvalu.
The extra effort has been put in because of MFAT giving $250,000 towards the exercise, about triple what was expected. That's allowed them to "go to town", such as holding dental programme for students at Motufoua High School. Large repair works will be carried out at Motufoua School and earth works will be carried out at Tolisse Primary School.
Surgeons will carry out up to 40 operations not normally available in Tuvalu.
About 1km of spouting and guttering will be upgraded or installed on public buildings - essential on an island that relies on rainfall for fresh water.
First aid training will be given to medical staff on the main island of Funafuti, as well as training for the island's fire service.
A rapid refill water tower will also be built for the fire service.
The island is also strewn with a lot of derelict cars, machinery and metal, which will be picked up and taken to the local tip.
Mechanics will also service a lot of machinery on the islands, such as forklifts and generators.
The air force has also remapped the island and approaches to the port, upgrading maps that were about 20 years old.
MFAT's Richard Dirks, development programme manager for Fiji and Tuvalu, said getting anything to Tuvalu was incredibly tough.
The Tuvaluans were a resilient people and had suffered through fatal cyclones before, he said.
This month's operation was a chance to deliver aid through health and education, which got through to all the people.
Tropic Twilight has been months in the planning, and has required a significant amount of cooperation and trust from the Tuvaluan government.
Agreements mean personnel were able to enter Tuvalu with a minimum of paperwork and get on with their jobs.
That involved a lot of trust as the Canterbury was carrying a lot of medical supplies, including drugs, which would normally require clearance.
The exercise suffered a setback when one of the air force's 757s, which was meant to bring 70 personnel of the main force, broke down, forcing extra flights in Hercules, and delaying their arrival by about 24 hours.
"It's just one of those things that happen with aircraft," said Lieutenant Colonel Todd Hart.
"The reality is you come up with an alternative plan quickly.
"It's only put us back a day. We are confident we can make that up."
- NZPA