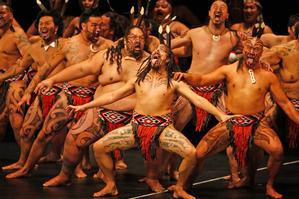 Reigning national champions Te Waka Huia took out top placing at the Tamaki Makaurau regional competition held at the weekend.
Held at the Aotea Centre, more than 500 performers in 21 teams vied for a chance to head to next year's premier Te Matatini festival.
Nga Tumanako, Te Roopu Manutaki, Te Manu Huia, Te Taha Tu and Te Tai Tonga also made the next round.
Performers such as Mana Epiha who composed for Nga Tumanako were jubilant after coming off stage.
Seeing footage of the group's formations confirmed his feelings that the group had done their best to get to the nationals.
The leader of Te Roopu Manutaki, Paora Sharples, said gearing up for the team's half-hour on stage meant shutting out what everybody else was doing. His group had a policy of not watching others.
"You'd get psyched out otherwise," he said.
Conducting the team's choral piece was his father and Maori Affairs Minister Dr Pita Sharples who founded the group in 1968.
Tamaki was the very last of the 13 regions to hold their competition.
MC Matai Smith said the two-day event was set apart from other regional competitions by the make-up of teams.
"I think the awesome thing about this for Tamaki Makaurau is that apart from groups like Te Puru o Tamaki [which represents Ngati Whatua] there are a lot of urban Maori or people that join groups here that live away from home and might not be able to travel back for practices. This is their fix for culture."
For those progressing attention will now switch to February's national Te Matatini Festival which is being held in Gisborne.