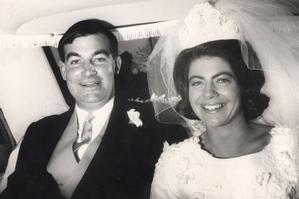 A former detective on the Crewe double murder inquiry is backing calls for the unsolved case to be reopened.
Ross Meurant said last night the killer of Harvey and Jeanette Crewe needed to be identified to finally put the mystery to rest.
The person he suspects killed the Waikato couple in June 1970 is dead, he said.
Meurant would not be drawn on whether that person was Len Demler, Jeanette's father.
"Let's say, there's no doubt in my mind that Demler had intimate knowledge of the crime scene before we [police] arrived," he said.
"I know he was interviewed and I know the focus was on him, but I honestly don't know if he did it."
It would be unfair for him to publicly identify who he suspected was the killer.
Meurant's comments come only days after Thomas's ex-wife Vivienne Harrison said publicly for the first time she knows the name of a mystery woman who fed the Crewes' baby, Rochelle, before their bodies were found weighted and dumped in the Waikato River five days after the murder.
She wants the police to reopen the case.
Harrison, who now lives in Australia, divorced Arthur Allan Thomas after he was convicted of the murders. Thomas was pardoned in late 1979 after it was found police had planted crucial evidence.
Police always suspected Harrison was the mystery woman who fed the Crewe baby - something she now wants cleared up and wiped from the police file.
Veteran Auckland journalist Pat Booth was instrumental in getting Thomas pardoned. He investigated the killings and uncovered police had planted a shell case in the Crewe's garden which they linked to Thomas.
He expanded a theory that Jeanette Crewe killed Harvey, before shooting herself.
Meurant doesn't believe it was a murder-suicide.
Meurant searched the section of garden on the Crewe property where the bullet shell case was eventually "found".
in a subsequent search. Meurant said he was pressured by senior officers to "create the impression" he had been "careless and missed" the shell case.
Meurant recalled the crime scene: "Harvey Crewe was clearly shot in his chair. Jeanette had been in the chair near him. She had dropped her knitting and gone to his aid.
"Whoever shot Harvey had come in and hit her in the face with the butt of the rifle. She was also shot, but she was definitely rendered unconscious by the blow."
Jeanette couldn't have shot Harvey then shot herself because of the injuries she sustained by the rifle blow, Meurant said.
"I've never spoken on this, ever, and there's always been pressure on me because I was the guy who searched the bit of dirt first and didn't find the bullet."