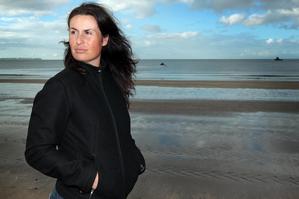 Postie Anamarie Ewins wants to deliver another sporting milestone for New Zealand and become the first woman to row solo across the Tasman.
The North Shore woman is planning her bid about the same time Australian Margaret Bowling and Kiwi transatlantic rower Tara Remington will team up to make their attempt.
Anamarie Ewins, 35, was inspired to make the solo crossing after New Zealander Shaun Quincey landed on 90 Mile Beach in March, ending his 54-day transtasman row.
She then learned Australian Margaret Bowling was already planning a Tasmania-to-New Zealand bid in January. "My first reaction was - 'oh no, I have to be first'," Ewins said.
Bowling has decided to row with a teammate, Kiwi trans-Atlantic rower Tara Remington, making it a huge task for Ewins to get across before them.
Ewins will launch from near Newcastle and plans to reach Taranaki. Bowling and Remington will row from Tasmania.
"I imagine it's going to be bloody hard," she said.
"It's scary but I think it's healthy to have a little bit of fear, otherwise you'll go out there expecting it to be all fine."
A former competitive rower, Ewins fits training and planning around her work as a postie on the North Shore.
The job keeps her fit and leaves afternoons free to focus on research, finding sponsors, and putting in hours on the gym rowing machine.
Ewins has also served with the New Zealand Army in East Timor, been a physical trainer instructor with the Air Force, and worked as a rowing coach.
Quincey, who is writing a book about his transtasman row, said he'd advised Ewins to start studying.
"She needs to learn absolutely everything about the Tasman Sea and about ocean rowing," he said.
"She needs to learn about boat design and currents and weather patterns and the history of ocean rowing, where people have failed and where they've succeeded."
Quincey was first to row solo from west to east, the opposite direction from his father, Colin Quincey, who was first to row the Tasman in 1977.
He is pulling for Ewins to beat her Australian rival, though his loyalties will be tested in September when he joins Bowling for a charity row from London to Paris (down the Thames, across the Channel and up the Seine).
Quincey said the Australian was planning a faster and riskier route than Ewins, from Tasmania to the Marlborough Sounds.
"It's bigger and more wild sea down there, but it moves towards New Zealand a bit faster."
Quincey said Ewins' 32-week preparation period would be tough, but said: "Hopefully she's unwavering enough to realise it doesn't really matter when you go, as long as you get there."