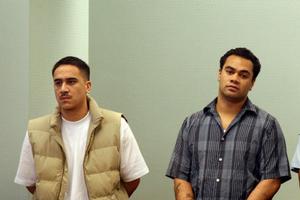 The gang of thieves who targeted Joanne Wang spent the days and weeks before her murder in "fertile breeding conditions for crime".
Before they were led away to begin their jail terms Christopher Shadrock, Vila Lemanu, Lionel Te Kanawa and Maka Tuikolvatu were told they each made a choice to be in the position they were in, despite the disadvantages and deprivation they hadd grown up with.
"It was depressing to hear in the trial of the culture of idleness, of loafing, of kicking back ... days of playing PlayStation and drinking," Justice Rodney Hansen said.
The phrase "The Devil makes work for idle hands" had never been truer, he said.
He told them to reject the friendship of gangs and "break the cycle of crime" by embracing education and achievers in the community whom they could look up to as mentors.
The judge said they were all capable of achieving something positive so something good could come out of this "tragic, needless death".
Tuikolvatu had 26 previous convictions, mainly for dishonesty offences, and had links with the Killer Beez gang. He has had three short stints behind bars before. A pre-sentencing report said he had no career aspirations and had a high risk of reoffending - probably because of his lack of insight and remorse.
Te Kanawa grew up in Christchurch with "crime all around ... Growing up it was just a part of life," he told a pre-sentencing report writer.
In a welfare home by 12 and out of school by 15, he denied any gang involvement but acknowledged he had abused alcohol and drugs.
He was learning Maori, partly because his 4-year-old daughter was attending a kohanga reo.
A conviction for injuring with intent to injure in 2006 is among 12 previous convictions.
Lemanu is one of seven children. He told of his siblings having "respectable" careers, although he never enjoyed the same success.
His criminal associations contributed to his ongoing offending and he was thought to be at a high risk of re-offending because of the "harmful pattern" of alcohol and drug abuse.
Shadrock grew up in Hamilton and was abused as a teenager in what a cousin said was a Once Were Warriors environment. His first time in court was at 15 but he had no history of violence. He has a history of alcohol and drug abuse, links to the Killer Beez and the Tribesmen and no real employment.