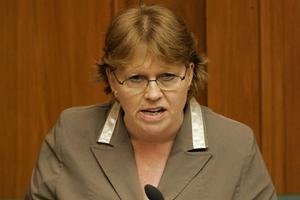 Labour is angry the law and order select committee chaired by National MP Sandra Goudie has not included its dissenting view in two reports, following a protest walkout of the committee by Opposition MPs this week.
Ms Goudie said if they wanted to have their say, the upset MPs should not have staged a walkout.
Labour's Clayton Cosgrove issued a statement today saying the committee had not included Labour's minority reports in its 2010/11 estimates reports for Corrections and Police. Minority reports are a way a committee can put out a report but include opposing views of members.
Labour MPs Mr Cosgrove, Rick Barker and Carmel Sepuloni, with Green MP David Clendon, walked out of the committee on Wednesday in a protest against Ms Goudie's chairing.
Mr Cosgrove said at the time the walkout was the "culmination of 18 months in which she had refused to respect the democratic role of Opposition MPs to ask questions and challenge government departments".
Mr Cosgrove today said refusing to include a minority report was not unprecedented: "It has actually happened once before. The same committee, under the same chair, of course, did the same thing when it turned down Labour's minority report on the committee's interim report on the three strikes legislation. The Clerk of the House then advised she believed the refusal was unprecedented.
"A hat-trick is normally an achievement to celebrate. Sandra Goudie's hat-trick is a shameful abuse of parliamentary democracy."
Mr Cosgrove assumed the walkout was the reason the reports were not included.
"But if that's the case the chair's collusion in the decision is petty and vindictive," he said.
Ms Goudie said decisions about minority reports were taken by vote.
"The bottom line is this - the select committee goes through a democratic process and we are not allowed to talk about what happens within the committee session when it's in committee, so that's why I can't talk about it a lot.
"Everything is done democratically, now he chose to walk out of the meeting. He should have stayed. And if he wants to cast his mind back to the previous minority reports that we've agreed that are attached... A discussion has to take place, these minority reports are actually approved by the whole committee, and there needs to be discussions around these things."
She said he could raise it again at another session.
"He wasn't at the meeting, that's the long and short of it, he didn't undertake his responsibility to be there and deal with the business of the committee."
Mr Cosgrove would write to Speaker Lockwood Smith with his concerns.
For the record Labour's minority reports raised concerns about burgeoning prison populations, a lack of focus on reducing crime and recidivism, and over police numbers.
- NZPA