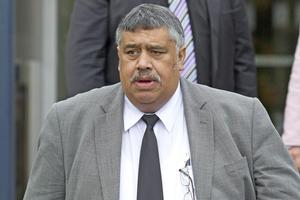 When Philip Ellis learned the person chosen to marry him and his fiancee was not registered to do so, he stuck with it.
He understood that with Anglican minister the Rev Maurice Gray watching over his trainee the ceremony conducted by undertaker Geoffrey Hall would be legitimate, the Christchurch District Court heard yesterday.
Yet when it came to their wedding day on November 4, 2006, at Kaiapoi, near Christchurch, Mr Ellis said Gray was nowhere to be seen.
Gray, 53, and Hall, 55, now each face two charges under the Marriage Act of falsely pretending to a be marriage celebrant and knowingly making a false declaration, at a court hearing which began yesterday before Judge Jane Farish.
Gray says he was present at the wedding, and therefore the marriage could be solemnised by him, with his name able to be legally recorded as celebrant on official documents.
Mr Ellis told the court his fiancee, Jeanette Hardy, had asked Hall, a friend connected to Gray's ministry, to marry them. Mr Ellis said he understood Hall was in training under Gray, but when he sought a marriage licence before the wedding, he was told by a registrar at the Department of Internal Affairs that Hall could not be legally listed as wedding celebrant.
"I said 'Well, he was doing it under the Rev Maurice Gray'. And they changed it, and I co-signed it," he said.
"I expected the Rev Gray to be at the wedding, and he wasn't."
When he went to see Gray after the wedding, Mr Ellis said the minister asked him who he was.
"I thought he would recognise me if he had been at my wedding."
Defence lawyer James Rapley said there was no deception or deceit, because Gray was at the wedding.
"And the definition of the Marriage Act is as long as he is present, the marriage can be solemnised in his presence."
Gray and Hall thought they were doing the right thing, Mr Rapley said.
The hearing is expected to end today.