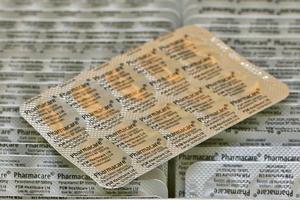 Drug-makers maintain paracetamol is still safe despite two recent overdoses involving toddlers.
And as health officials call for a review of over-the-counter painkiller sales, chemists say people should consult them before using the products.
The toddlers required liver transplants which Starship child health director Richard Aickin said would have life-long ramifications for them.
He said giving paracetamol too often or giving too much in single doses were the usual causes for overdoses in children.
Dr Aickin called for it to be sold only in small bottles, and in child-proof packaging unless otherwise requested, the Dominion Post reported.
Capital and Coast District Health Board clinicians have also called for a review of how painkillers are dispensed following a report showing a trend of codeine addiction from over-the-counter medicines.
But the New Zealand Self Medication Industry Association, the industry body representing non-prescription products, said paracetamol had been available here for more than 50 years and the vast majority of children using it as directed experienced no undesirable effects.
President Heiko Petersen said it was sad to hear that two small children became seriously ill after an overdose of paracetamol.
"We don't know by how much the recommended dosage was exceeded or under what circumstances the children took the medication.
"These medicines are clinically trialled and very safe if used according to the label," Heiko Petersen said.
"Medsafe has strict regulations around the packaging and labelling of painkillers and our members fully observe these requirements."
Paracetamol remained an effective and safe option for the first-line treatment of pain and fever in children.
Liquid paracetamol products intended for children were available only from a pharmacy, he said.
Meanwhile, the Pharmacy Guild said it was concerned about the public perception that paracetamol and other readily accessible medicines could be taken without risk.
"Access to these medicines is currently unlimited in supermarkets," said president Ian Johnson.
He said it was a great concern that paracetamol was easily accessible without the professional advice of a trained health professional.
"It is optimistic to think that the instructions on the packet are all the advice that the average patient needs.
"What many people don't know is that paracetamol is present in multiple over-the-counter products and it is very easy to take more than the recommended daily dose."
Mr Johnson said that as experts in medicines, community pharmacists ensured that patients and their children took the right dosage that was safe for them.
He said it was essential to talk to a pharmacist before taking any medicines.
- NZPA