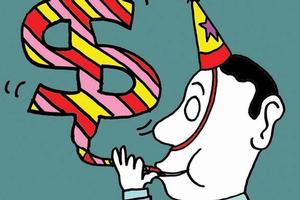 We all love an excuse for a party, but doomed Manukau City Council is pushing the limits with its plans for a $85,000 wake for itself. It's not the cost that concerns me, it's the flawed justification.
Despite all the myth-making, the city is just 21 years old and hardly out of puberty. It's not some venerable old identity, trapped in a rest home and counting down the days to the Queen's telegram.
Who ever heard of a 21-year-old getting all nostalgic about the good old days of childhood? Coming-of-age parties are for looking ahead, for dreaming of future triumphs. If there is to be partying to mark the emergence of the Super City this year, it should be a region-wide affair celebrating that, finally, we are all Aucklanders.
At least Manukau is including ratepayers in its plans. Auckland City plans to spend $87,000 on in-house wakes for staff and politicians alone and ratepayers be damned. And they wonder why so few tears are being shed for their passing.
Back with Manukau, I don't want to knock the achievements of the past two decades, but the planned Celebration of Manukau Festival sends the wrong signals. The region's four big cities, Manukau included, are artificial constructs, collections of disparate communities, forced together for better or worse by the 1989 round of local government amalgamations.
While there is widespread misapprehension about the Super City model, there are areas in Manukau and the other cities happy to be leaving these forced marriages.
Instead of organising wakes to glorify the past, we should be celebrating with unity parties instead.
On something of a tangent, a ratepayer-funded celebration of the "glories" of the existing city in the run-up to an election to replace it is likely to be seen as a political statement favouring existing politicians seeking higher office, in particular Mayor Len Brown, who seeks the super mayoralty.
In November, party organiser extraordinaire Alan Smythe proposed a $1 million bash to launch the Super City. He suggested Auckland Anniversary next February 1 as party day, but after Auckland Mayor and Super City mayoral hopeful John Banks, and North Shore Mayor Andrew WIlliams rubbished the proposal, it seems to have died. Which was a shame.
It's not as though money can't be found. North Shore has a $14.4 million windfall from the sale of an old works depot burning a hole in its pocket, which it is desperate to spend before amalgamation. Auckland City has voted $120,000 for a history of its last 21 years.
Then there's all the millions of ratepayers' money being handed over to help create Rugby World Cup "party central" on Queens Wharf. If we can bankroll a rugby hoolie, surely we can find money to mark the biggest revolution of local governance in Auckland's 170-plus years.
After the cold-shouldering Mr Smythe got in November, I suggested a bit of lateral thinking. By topping up the funds of the existing and now well-established biennial Auckland Festival, we'd get the best of two worlds.
It would bring new audiences and extra funding to the festival, while introducing Aucklanders, by way of new cultural experiences, to one of the obvious advantages of amalgamation, that by working together, horizons can expand rapidly.
There's also nothing like a festival to get people moving outside their own territories - both physically and intellectually. You meet new people and try new experiences. Isn't this what the creators of the new Auckland are hoping for?
As luck would have it, the next Auckland Festival is scheduled for early March next year, close to the Anniversary Day spot Mr Smythe had proposed for his Olympic Games Opening-like extravaganza. It's also about the time of the uniquely Auckland, Pasifika and ASB Polyfest festivals.
It's the season when Aucklanders party. To celebrate the birth of the Super City, why not link all these festivities together and add a bit. Introduce the people of Ponsonby and Pakuranga, of Otara and Orewa and Massey to each other and to the diverse talents alive in the new city.
So yes, Manukau and Auckland City, by all means spend our money on a party, but invest it in a celebration of the future, not on wakes for a not-so-glorious past.