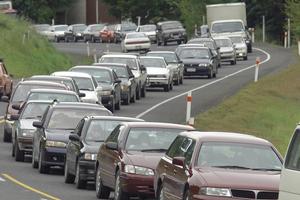 Puhoi, north of Auckland, is likely to miss out on a connection with a dual-carriage highway to Wellsford costing up to $2 billion.
The Transport Agency says the only access points to the road, which it hopes to start building before 2014 and is likely to be a toll road, will be at Wellsford and Warkworth.
That means no interchanges for 29km from Orewa to Warkworth, as it wants a seamless connection between the new highway and the Northern Gateway toll road.
Traffic now using that road to reach Puhoi will have to leave State Highway 1 at Orewa and use the coastal route through Waiwera.
Agency officials were unavailable yesterday, but a project newsletter says "only Warkworth and Wellsford justify having access points to the proposed highway".
"Areas such as Puhoi, Mahurangi West, Moirs Hill, Cowan Bay and Wayby will continue to be served by the existing SH1, which will carry less traffic once the new highway is built."
Puhoi community forum member Larry Mitchell said the plan seemed likely to leave them worse off than residents of Pokeno, who were at least given on and off ramps after being bypassed by the Waikato Expressway.