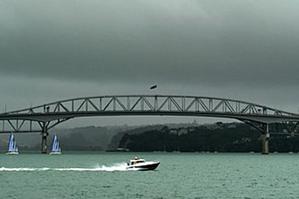 Dismantling Auckland's Harbour Bridge, building a new bridge, and selling prime waterfront land around the old bridge's St Marys Bay and Esmonde Rd approaches to help fund the project is being evaluated by the New Zealand Transport agency.

Transport Minister Steven Joyce has previously received strongly-argued recommendations from five major regional organisations - including the Government's own NZ Transport Agency - for a road-rail tunnel between Downtown Auckland and the North Shore but says he hasn't formed a view on whether a tunnel or a bridge is most appropriate. This effectively opens up the debate about the merits of another bridge.

The Transport Agency is spending $86 million to patch up the 50-year-old bridge while talking of it becoming "maxed out" and having a "finite lifespan".
In 2008 it combined with the regional council, regional transport authority and Auckland and North Shore City Councils to find an alternative.
The "tight five" commissioned a $1.3 million consultants' report and whittled 160 options to one preference.
That was for four tunnels - two road tunnels with three lanes in each direction and two separate single-rail tunnels.
The rail tracks would cover 4km from Esmonde Rd to Britomart; the road tunnels roughly 3km from Esmonde Rd under the soon-to-be-developed Wynyard Quarter to Fanshawe St.
Treasury estimated the cost as high as $6 billion. The Transport Agency puts the bill between $3-4 billion, subject to more "detailed engineering".
More consultants, to be named early next month, will be paid another $12 million to assess traffic flow, environmental and economic impact, planning and engineering for a tunnel and bridge.
This follows studies conducted in 1988, 1997, 2002 and 2003 to find an alternative.
Full story - The Aucklander and www.theaucklander.co.nz