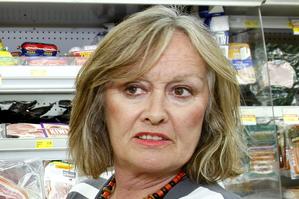 New Zealand food companies are being slippery about whether they use palm oil, according to a Green Party survey.
Green Party MP Sue Kedgley wrote to 20 of New Zealand's largest food companies, asking them for a list of products they manufactured that contained palm oil.
Chocolate-maker Cadbury recently tried to introduce palm oil in its local products, but stopped because of criticism about sustainability.
Palm oil plantations have been blamed for destroying vast tracts of rainforest in areas such as Borneo, endangering already threatened species such as the orangutan.
Watties said it did not use palm oil in any products and Delmaines said it used palm oil only in its Kisses product.
Six other companies confirmed using palm oil, but refused to give further information. A further 12 companies did not respond to Ms Kedgley's query and follow-up request for information.
"I wrote to them to tell us but most of them refused," said Ms Kedgley. "Food manufacturers want to keep it secret and surely as consumers we have a choice."
She said the refusal of manufacturers to disclose what food products contained palm oil was extraordinary, since this was one of the reasons Food Standards Australia New Zealand had given for refusing to require palm oil to be labelled.
"FSANZ said in its decision not to require palm oil labelling that if consumers wished to avoid the consumption of palm oil they could contact food manufacturers for the information. Well, we have contacted food manufacturers, and nearly all have refused to disclose this information."
New Zealanders had a right to know what was in their food, she said.
"We need to change our labelling laws so that companies are required to disclose whether they use palm oil or not, because companies are not prepared to disclose this voluntarily."
However, the New Zealand Food and Grocery Council's chief executive officer, Katherine Rich, said Ms Kedgley was using the labelling debate as a battle ground for other issues.
"I suspect what she's trying to achieve is an environmental goal but labelling is not going to do it. We don't want to get involved in the latest political fashion. It is just another vegetable oil," says Mrs Rich.
"Most people get the impression that palm oil is poisonous in the shopping trolley, it's actually quite the opposite," she said. "Some people have been producing palm oil on the same land for the last 100 years."
Mrs Rich said many companies have decreased the amount of palm oil while they look for substitutes.
Daniel Ellis, corporate affairs manager for Cadbury, said the company follows the Food Standards Australia and New Zealand guidelines but is not obliged to disclose palm oil.
"The term vegetable fat includes a blend of fats and/or natural oils which may include palm oil," says Mr Ellis.
Sanitarium communications manager Kim Sterling says some of its products are labelled as containing palm oil. She says while products such as Cluster breakfast cereals are labelled "vegetable oil and in brackets palm oil", palm oil in peanut butter is not disclosed because it contains a minimal amount of palm oil and the label is too small.
"That is a feeble excuse," says Ms Kedgley. "They hide behind the term vegetable oil. They would have more room on the label if they removed 'vegetable' and replaced it with 'palm'."
Ms Kedgley says she would like to see palm oil disclosed on every label.
- additional reporting NZPA