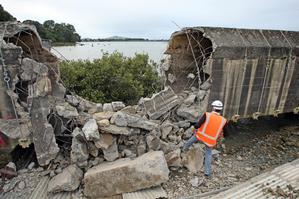 A "people-powered" water sports centre is proposed for Hobson Bay when the 100-year-old sewer pipeline is removed.
Auckland Rowing Association president Brian Parr said demolishing the pipe unlocked the potential for a 2000m competition course, which would bring national and international events to Auckland.
With the pipe out of the way, about 140ha of water lay between the railway embankment and Shore Rd.
The rowing course would lie along a sheltered stretch down the southern side of the railway line.
It would start under the cliffs at Parnell and finish in the corner next to the proposed Orakei Point apartment development.
Mr Parr said Auckland did not have a 2000m laned course.
The venue at Lake Pupuke, Takapuna, was 1000m and to get the 2000m distance, Auckland's rowers had to drive three hours south to Lake Karapiro in Waikato.
A 500m course for waka ama or outrigger canoe racing was part of the plan.
Mr Parr said it would be fitting if the bay was returned for use by waka ama and rowing skiffs as they were original sporting activities on Waitemata Harbour.
A 2006 study by the Auckland Regional Physical and Sport Strategy tagged Hobson Bay as the prime site for competitive rowing, canoeing and waka ama and as a Commonwealth Games venue.
Mr Parr said that in 2002 he talked to local authorities about the potential for the bay as a regional recreational marine park and to take planning steps to protect the bay.
And 20 years before that, a Hobson Bay Marine Park was mooted for completion by 1985 in association with the University of Auckland and Auckland City Council.
Having staked a claim for water sports, the association was surprised when Tony Gapes' Redwood Group's first plan for the apartment development ignored the potential of a neighbouring water sports facility.
At the plan change hearing for the development this month, the association said it should not push out rowing's proposal and should instead open up Orakei Point to the public and a hardstand area for water sports.
WATER FUN
New life for Hobson Bay
* Rowing
* Waka ama (outrigger canoe)
* Canoeing
* Long-distance swimming
* Sea Scouts
* Small yachts