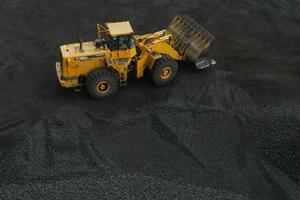 The chairman of Solid Energy says at least part of the state-owned coal miner should be sold off to raise billions of dollars needed for new projects, including more mines.
John Palmer - who is also chairman of partially privatised Air NZ - said Solid Energy needed up to $10 billion in additional capital over the next five years, and should be partially privatised if National wins a second term in office.
That was the best way to provide the money, given the state of the Crown accounts, he told the Herald yesterday.
"I don't think it makes a lot sense for the Crown to put several billion dollars into a company like Solid Energy where it can retain all of its existing ownership and leverage and external capital can provide the opportunities for growth. It's very much a win-win situation."
Solid Energy required the additional money to fund major projects using vast deposits of lignite in Southland, and also the production of gas from coal.
It is currently working on a pilot underground coal-to-gas project in Waikato, he said.
"We see some quite considerable potential in that area."
The coal miner already had substantial coal resources available for development but "the idea that we would seek further resource to expand beyond that is always something that we're looking at".
Mr Palmer said he knew any privatisation could not come until at least 2012, the start of a second National term.
But the Government was yesterday not interested in the Solid Energy suggestion, with Energy Minister Gerry Brownlee saying Mr Palmer's views were "certainly not the Government's view".
"I think he has just stepped well over the mark this morning and I'm sure no one is particularly happy with him," he told Radio New Zealand.
A spokesman for Finance Minister Bill English said the minister had only received a text from Mr Palmer advising him he was giving a speech that would refer "in a general way" to state-owned enterprises growing with external capital.
"He did not mention Solid Energy by name and Mr English assumed he was talking about Air New Zealand of which Mr Palmer is chair."
However, Mr Palmer said Mr English and SOE Minister Simon Power were "well aware of the sorts of aspirations we have and the possibilities for growing wealth in New Zealand that we have in our existing resources so none of that will be a surprise".
Opposition energy spokeswoman Nanaia Mahuta said she was unsurprised by Mr Palmer's comments which she believed reflected the Government's intentions.
"We do know privatisation is part of their agenda, it's just a question of when."