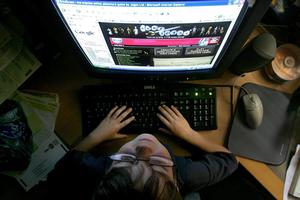 More than half of New Zealand children have had a bad experience using the internet, encountering nasties such as violence and nudity, according to a survey.
International internet security company Norton, in its Online Family Report, surveyed 2800 children and more than 7000 adults in 14 countries about their online lives - including 200 children and 500 adults in New Zealand.
During the past three years, Norton has examined generational differences with respect to online beliefs and behaviour. This time the survey also looked at the emotional impact of online experiences on children and their online codes of conduct.
Sixty-three per cent of the New Zealand children reported negative online experiences - such as downloading a virus; responding to online scams; having someone they didn't know try to meet them in the real world; seeing violent or nude images; receiving "sexts", or sexual pictures; and being bullied via mobile phone or computer.
They reported being angry, upset and afraid about their negative online experiences and 53 per cent said they felt some personal responsibility for it.
However, only 45 per cent of parents realised that their children were having negative experiences, the survey found.
"While parents are generally aware of the activities kids participate in online, they underestimate the extent to which kids download music and videos, activities in which kids may be exposed to inappropriate content and encouraged to disclose personal details," the report's authors said.
Nearly 80 per cent of the New Zealand children said they would turn to their parents if something bad happened online.
But 37 per cent thought they were more careful online than their parents. Twenty-seven per cent actually say their parents have "no idea" what they are doing online.
The report found that children actually wanted more parental involvement in their online lives.
As well as relying on their parents if something bad happened, nearly 85 per cent of New Zealand children followed family rules for internet use.
Most say they have online manners and 67 per cent say they don't harass or stalk others online.
- NZPA