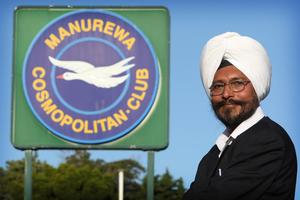 The Sikh community is to take legal action against a south Auckland club which won't allow them to wear a turban in the club's bar.
Sikh Council secretary Verpal Singh told NZPA it would apply to the Human Rights Review Tribunal to overturn Manurewa Cosmopolitan Club's decision to maintain its policy forbidding the wearing of headwear in the bar.
"It's the next step in mediation that was started with the Human Rights Commission and as the logical next step we are going to the Human Rights Review Tribunal," he said.
The Sikh community was "disappointed" at the club's decision.
"At issue is not that we want to go there to the club but we don't want to be excluded," he said.
Furthermore, not all Sikhs would be banned from the club - founding member of the Pukekohe Cosmopolitan Club Ganges Singh, who has been visiting the club since 1976, would still be allowed in with his turban.
"That's where the situation is so strange to us," Verpal Singh said.
The Sikh Council issued a statement on Monday outlining the importance of the turban to the Sikh community.
"For practising Sikhs, donning the turban is not a matter of choice - they must don it or feel naked without it. The importance of the turban may be judged from the fact that a Sikh would not greet any unexpected visitor to their home, without the turban... because for the Sikhs that would be akin to greeting someone in one's undergarments," it says.
- NZPA