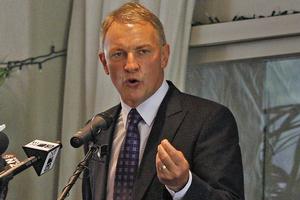 It says a lot about the trouble Phil Goff has had in gaining traction with voters that his disciplining of a clutch of his own MPs should be so readily seized by him as a means of bolstering his image as a firm and decisive leader.
He may have had little option but to punish Chris Carter, Shane Jones and (for good measure) Mita Ririnui after last week's exposure of ministers' misuse of taxpayer-funded credit cards during Labour's time in office.
But Goff shrewdly converted a duty into an opportunity, turning in one of his most assured performances as Labour leader in his careful handling of a huge embarrassment for the party.
Long before the boxes of documents cataloguing the credit-card abuse were released to journalists, Goff would have realised he would be judged on his management of this tawdry episode as much as the MPs he has demoted have been judged on their behaviour.
While Goff has projected himself as someone who can deal with a crisis - even if it took one within his own caucus for him to show his mettle - he also knew a public display of contrition was necessary on Labour's part.
The credit-card abuse cuts deeper than just inappropriate use of public money. The episode has been a rude interruption from the past, marring Goff's efforts to have Labour make a clean break from the Helen Clark era.
Given the scale of the credit-card rorts, it was not something he could easily brush aside.
Rather than immediately demoting those MPs implicated in the scandal, he instead deliberately dragged things out. Using the rationale that he would wait until he got back from his visit to China, Goff let it be known in the meantime that Jones and Carter were for the high jump and would be bumped off Labour's front bench and relieved of their shadow portfolios after he returned home.
The delay was designed to show just how seriously Goff was treating the matter in terms of Labour atoning for its past, while keeping him at the top of the news bulletins in anticipation of yesterday's announcement of the demotions. Goff also wisely separated that announcement from today's follow-up one detailing who will fill the vacant front-bench seats and spokesmanships, thereby ensuring the public got the message that Labour is punishing itself.
Goff has had one thing working to his advantage. The credit-card spending all happened under Clark's watch. That has allowed Goff to talk credibly about the "standards" that he, as party leader, expects his MPs to meet. He even tried to grab a piece of the moral high ground by suggesting if he were Prime Minister he would abolish ministers' taxpayer-funded credit cards altogether.
While Goff has done as much as was probably possible on his part to minimise the damage to Labour, this episode will make Labour's job of holding the Government to account more difficult.
But that handicap should be only temporary. Crucially, Goff, his deputy, Annette King, the party's finance spokesman, David Cunliffe, and other senior MPs - apart from Carter, Jones and Parekura Horomia - have not been found to have indulged in dodgy use of credit cards while ministers. And National cannot claim to be squeaky-clean either.