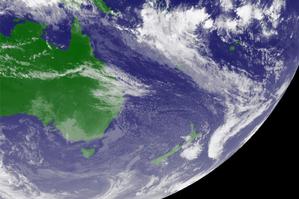 Grey skies are expected to turn to sunshine this week as a high bigger than Australia settles over New Zealand.
Forecasters say the high-pressure system will mean sunny weather for the whole country from tomorrow until at least Friday.
WeatherWatch analyst Philip Duncan said the high would pass quickly but would still give good weather for a few days.
"For the next week, we're going to be going through a drying-out period," he said.
"This high is bigger than Australia - covering a massive area. Even though it's moving at quite a speed, it's still going to give New Zealanders four or five days of mostly sunny, settled weather," Mr Duncan said.
Greymouth, New Plymouth, Palmerston North, Hamilton, Nelson and Kaitaia are expected to be among the sunniest areas this week.
But Auckland has a bit more rain to endure before the skies clear.
The forecast for the city and the region today is for showers with fine breaks, but also high winds and cold temperatures - a low of 9C and a high of 16C.
The showers are expected to ease early tomorrow.
Mr Duncan said the break would last until a low spread over the country on Friday and Sunday - after which another high is expected to bring more sunshine next week.
"Tuesday through to Thursday are the washing days - definitely a lot of sun on those days this week and next," he said.
Although many people will be basking in the sun this week, snow and frosty temperatures will remind us that it is still winter.
MetService weather forecaster Heath Gullery said those in eastern regions of the South Island would bear the brunt of the cold weather, particularly on Wednesday and Thursday.
Frost is also expected in other parts of the South Island and in central parts of the North Island from Waikato south.
"The sun is good news for farmers heading to Fieldays [in Hamilton] this week," Mr Duncan said.
"But there'll also be frost in lots of places and black ice on the Desert Rd, so people need to be aware of that."
Break in the weather:
Monday to Friday
Showers today, but sunshine tomorrow.
The cause
A high larger than Australian settling over the country.
Auckland region
Fine weather, wind, cool temperatures.
Rest of NZ
Fine, but also frost, snow, black ice.