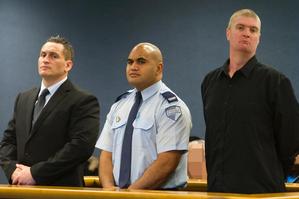 When convicted cop killer John Skinner is finally released from what is likely to be a lengthy sentence, there's a good chance he will have nothing to go back to.
The Weekend Herald can reveal police have frozen about $1 million of property, cash and other goods belonging to Skinner while they prepare their case against him on P manufacturing charges from around the time of the September 2008 killing.
Skinner, 38, was yesterday found guilty of murdering undercover officer Don Wilkinson with a powerful air rifle after catching him trying to install a tracking device on his Ford Explorer.
Skinner was under covert police surveillance as a suspected P manufacturer.
He was also found guilty of the attempted murder of another officer, known only as Officer M.
Police hold what they say are the criminal proceeds of those alleged crimes, including the Ford Explorer and a V8 Holden Commodore plated 4BNBAD. Restraining orders were also granted to freeze two jetskis, property Skinner owns in the Waikato, jewellery and cash.
The month-long trial at the High Court at Auckland exposed the inner workings of the criminal underworld and the shadowy police group known as the Technical Support Unit.
Extensive suppression orders were imposed during the trial to protect the identity of officers who gave evidence and details of how they carry out missions still in place.
If the TSU operation into Skinner had been completed successfully, arrests would have been the first the public knew about it.
Even then, covert aspects of the operation would probably never have seen the light of day.
The night Sergeant Wilkinson and Officer M tried to install the tracking device, Skinner and co-accused Iain Clegg were inside Skinner's rented Mangere home searching the internet for performance car parts.
It looked like a modest home, not unlike others on the street, but inside it was defended by air rifles, martial arts weapons, security cameras and sensor lights.
Neither of the men was shy about taking the law into his own hands.
Clegg was the first to notice movement detected by a security camera trained on the driveway.
Though the officers didn't know it, they had spotted Sergeant Wilkinson and Officer M who, under the cover of darkness and clad in black with tool bags around their waists, were creeping up the driveway.
They were almost at the Ford Explorer when they triggered a sensor that flooded the driveway with light.
Skinner raced upstairs to get a gun, while Clegg raced to his car, challenging the officers as he ran.
Both officers ran off heading for a pre-assigned safe point chosen in case the operation went bad.
As Clegg fired up his car, Skinner briefly confronted an old man apparently looking for his dog.
Skinner had no idea the man was the two officers' look-out man.
Giving chase in the car, Clegg and Skinner finally caught up with the two officers up a driveway around the corner.
Skinner later told the court he had been "in total fear" when he encountered the two officers.
He claims he fired shots into Wilkinson's chest because he feared for his life. He insisted he was acting on instinct and his memory went blank.
Skinner's lawyers argued their client had been in a terrifying situation that he later described as "the worst time of my life".
He told the court he simply had been protecting his family against what he perceived to be "home invaders".
Skinner was a well-schooled witness in his own defence. Seated in the evidence box he shed tears when he recounted the events, referring to the officers only as the "intruders".
But for all his polish, the jury ultimately rejected his version of events.
After nine hours of deliberation they decided he was the aggressor and guilty of murder.
Co-accused Clegg was found guilty of manslaughter.
The two might have been mates, but Clegg maintained throughout the trial Skinner had acted alone when he killed Mr Wilkinson and shot Officer M.
Clegg also faces a prison term but time behind bars will be no new thing for the 36-year-old.
In May 2004 he was sentenced to four years and six months for manufacturing P.
During a parole board hearing, it was revealed he was at a loss to explain why a person with such intellectual capability, personal attributes and opportunities throughout his life would take the criminal offending road he had.
He was released on parole in 2006 with a sentence end date of December 2007.
Nine months later he would find himself in 54 Hain Ave, home of an alleged P cook and eventual cop killer, John Skinner.
Both men will appear for sentencing on the current charges on August 30. They are in custody.