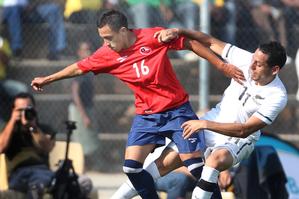 The All Whites' boffins have been studying Slovakia like mad over recent weeks - but the players are certainly giving nothing away about their initial World Cup group opponents.
The standard line from the players is that Slovakia - who Rikki Herbert's men play in their first Group F game on Tuesday night - are "much the same as Slovenia", as Leo Bertos put it.
Variations have been in short supply.
Goalkeeper Mark Paston reckoned: "From what we've heard they are similar to Slovenia." They must know more than that.
No two soccer teams are that alike - even if it is very easy to get their names mixed up.
Jeremy Christie did admit Slovenia had surprised him, which of course means that Slovakia could also surprise.
That's the nature of sport. "Slovenia were very good - they knocked the ball around better than I thought they were going to," Christie said about their recent match in Europe.
Slovakia have two highly rated players in Liverpool defender Martin Skrtel, who has had injury problems, and star Napoli midfielder Marek Hamsik.
Hamsik's claims to fame include posing with a mafia fugitive and using his popularity to get away with racing about town at ridiculous speeds. Or maybe the police leave him alone because of that mafia business.
This is a team of curios.
Their coach is Vladimir Weiss, whose son of the same name is in the team.
They didn't push the boat out when it came to nicknames - Slovakia are known as the Repre, which means representative team.
They have played a couple of different formations and their few stars are supported by good players from various European leagues. Slovakia are a new World Cup nation, although they have played in eight World Cups as part of the former Czechoslovakia.
And national pride figures large for a team that first played in 1994 and is in a major tournament for the first time.
Original captain Miroslav Karhan, who will not take part because of injury, reckoned: "Qualifying for the World Cup is important for the identity of our young nation."
Young defender Peter Pekarik claimed: "For a small nation like ours, qualifying was a sensational effort."
And goalkeeper Jan Mucha said: "I didn't fully appreciate what it would mean for fans that Slovakia qualified. We cannot fail them."
As for a team making their World Cup debut and running on national pride - think of Croatia's great run in 1998.