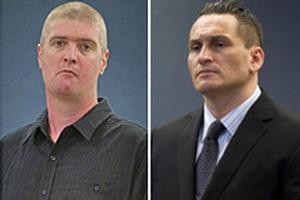 John Skinner, the man accused of shooting dead an undercover police officer during a covert operation has been found guilty of murder.

His co-accused Iain Lindsay Clegg was found not guilty of murder but guilty of manslaughter.

Skinner was found guilty of attempted murder. Clegg was found not guilty.

Skinner was also found guilty of assault with a firearm.

A jury returned the verdicts at the High Court at Auckland at 3.20pm. They had been deliberating for nine hours.

They have been remanded in custody until sentencing on August 30.

About 40 friends and family of Mr Wilkinson and the two accused filled the courtroom to hear the verdicts.

Mr Wilkinson and a colleague, Officer M, were chased down the street by Skinner and Clegg after they caught them trying to install a tracking device on a car in Skinner's driveway.

Both officers were shot in the confrontation that followed. Mr Wilkinson died at the scene but Officer M survived.

Crown prosecutor Simon Moore SC, in his closing address, said Skinner and Clegg were on a "homicidal mission."

"These men weren't scared or threatened. These were two very angry, aggressive, violent young men who decided they'd run these intruders down."

He said they were two "fit young men who decided to take the law into their own hands."

Skinner's lawyer Marie Dyhrberg argued Skinner shot Mr Wilkinson in self-defence after he feared he would be shot by the officer - who he believed to be a burglar.

In evidence, Skinner said he saw Mr Wilkinson reach for his waist, an act he interpreted as him reaching for a gun.


He could not recall shooting Officer M because everything after the initial shot was a "blank."

Ms Dyhrberg said he was responding to a very serious threat.
"The evidence in this case does not fit with the Crown's theory that Skinner intended to harm someone on that September night, let alone intended to kill someone."
She said even the Crown did not dispute that the accused thought the police officers were burglars.
Stuart Grieve QC, on behalf of Clegg, rejected a Crown assertion the murder was a joint enterprise.
He said Skinner was "acting on his own" when he shot Mr Wilkinson.
"The two men reacted when they saw the intruders. There was no time for a plan. They challenged the intruders and Clegg chased them. But they were not acting together or as part of a plan."
Clegg had "no clue that Mr Skinner would act in the way that he did" and didn't know how powerful the air rifle he had was.
He admitted punching Officer M but denied he struck him with nunchucks as had been alleged by an officer during the trial.