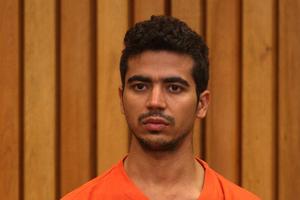 Dev Sangha glared at the suspected killer of his wife as the two saw each other for the first time since Ravneet Sangha's death.
The man charged with her murder is Deepak Nagpal, a 23-year-old of Indian descent who, like Mrs Sangha, worked as a fruit packer.
The slightly-built and unshaven Nagpal appeared in a scruffy shirt in the Tauranga District Court yesterday, and was remanded in custody until June 25.
Police indicated he was likely to face further charges.
The Sanghas' 2-year-old daughter Anna was found dead in their Otumoetai home on Monday, after an extensive search found her concealed in the house.
Mr Sangha, 37, sat in the front row of a gallery packed with supporters, many of them work colleagues from Tauranga Mount Taxis.
Outside the courtroom, several more workmates jostled for a view of the accused through the doors.
Mr Sangha later told the Herald he was "too sad" to comment on the appearance of the accused killer as he was walked back to Tauranga Central police station.
Judge Paul Geoghegan issued orders suppressing the causes of both deaths and the circumstances surrounding the deaths.
Nagpal boarded with the Sangha family for months before allegedly killing Mrs Sangha while her husband was on a business trip in India.
Police said the murder investigation extended to Hastings, where Nagpal had worked as a packer.
He is also believed to have studied business in Auckland until March.
Inspector Mike Clement said Nagpal had returned from a visit to India on June 1.
He travelled from Auckland to Tauranga last week, before returning to Auckland, where he was arrested.
Police were seeking more information on Nagpal's movements during this time, saying it was crucial to the investigation.
Mr Clement said post-mortem examinations on both bodies provided conclusive results.
He said police were last night about to conclude their investigation at the Sangha house on Ngatai Rd in Otumoetai.
Tauranga Mount Taxis manager Bruce Rainey said his business would come to a halt today as drivers attended the funerals of Mrs Sangha and Anna.
"This [taxi] society is a family structure. We look after each other, and to lose one of our own is an extremely difficult thing."
He described Mrs Sangha, who drove cabs for his company part-time, as a "lovely, intelligent, extremely hard worker".
Mr Sangha's work colleague, Raj Dogra, said the local Sikh community was still in shock.
"The whole community is very angry about this ... we don't know what has happened, how it has happened but whatever it is, it is totally wrong," he said.
Outside the Sangha home, family friends have erected a mini-shrine with bouquets of flowers, stuffed animals, pictures of rainbows and well-wishing notes.
The funerals will be held at Pyes Pa Crematorium chapel at 1pm today.