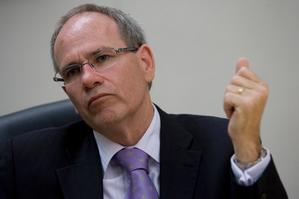 Manukau Mayor Len Brown has confessed to making another personal purchase on his credit card - this time a $59 Christmas ham for the family table.
Mr Brown, who is asking Aucklanders to put their confidence in him to become the first mayor of the Super City, has racked up $16,977.22 on his council credit card since becoming mayor in 2007. Last night, he released a breakdown of his total expenditure.
On Monday, Mr Brown admitted making three personal purchases on his council credit card in the year to May, including a $148 mini hi-fi system for a family event. It was unclear what the purchase of $115.27 of groceries was for, but Mr Brown chose to put it down as a personal expense; and the booking for a family event at the Rendezvous Hotel was inadvertently put on his council credit card instead of his personal credit card. He has repaid the council for the spending.
Yesterday, he said he used the council credit card to buy a $59 ham on December 23, 2008 for his family.
"I did so, but only had the mayoral credit card on me at the time and reimbursed this expenditure," he said in a statement.
The breakdown of Mr Brown's credit card spending shows he frequently wines and dines guests, councillors and staff and often grabs meals and refreshments between mayoral engagements. On May 3, 2008 he had dinner with Deputy Mayor Gary Troup and his wife at an upmarket restaurant, Wine Chambers in Auckland City, costing $279.40. A mayoral Christmas luncheon with Mr Troup and staff in December 2008 at Manukau's Republic Bar and Kitchen cost $199 and a staff Christmas luncheon at the same restaurant in 2009 cost $543.80. Mr Brown also spent $150.50 at Long Bay Restaurant discussing the Super City reforms with North Shore Mayor Andrew Williams in April 2009.
"All my expenses are checked regularly by a senior council official and are reasonable for my position as set out in the Manukau City Council Expenses Rules, approved by the Remuneration Authority," his statement said.
The council's credit card policy says cards "must not be used for personal purchases" and Mr Brown is understood to have signed an application form saying "I understand that under no circumstances will I use the card for private transactions, either for myself or others".
Manukau councillor and C&R Super City candidate Jami-Lee Ross said chief executive Leigh Auton had not provided him with a full breakdown of Mr Brown's credit card purchases, including statements and receipts. On Tuesday he asked for the information by yesterday, but Mr Auton told him it would not be provided until the council's policy and activities committee next Tuesday.
SPEND-UP
Personal credit card use:
* $148 mini hi-fi system
* $115.27 groceries
* $316 Rendezvous Hotel
* $59 Christmas ham