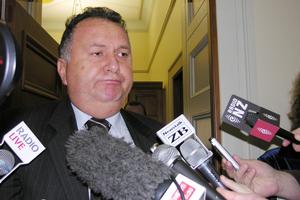 Former Minister Shane Jones has admitted using his ministerial credit card to pay for pornographic movies while staying in hotels but said he wasn't a "sex fiend".
Labour MP Jones said he has had an "extreme bollocking" from Labour leader Phil Goff, but said he was "not immediately thinking about resigning".
In a mea culpa to a press conference at 2pm, Jones said: "Not only have I embarrassed myself, my family and my party colleagues, but I got into a pattern of expenditure that was inexcusable.
"It's beyond excuse and it's a day of humiliation for me.
"During the time that I was staying in hotels around the country, from time to time I definitely watched blue movies. Although I paid them back, it should never have gone on my ministerial card. It was personal expenditure and I offer no excuse.
"It's a day of extreme shame. I obviously lost the plot. Whether or not it's fatally injured me as a politician, I'll dwell upon that.
"I'm not immediately thinking about resigning. I don't make those decisions in the heat of humiliation. But I've had a severe bollocking from my leader, Phil Goff, which I thoroughly deserved, a stern talking to from Annette King , and I will front up to my colleagues in caucus and give them an opportunity to tell me what they think.
"And really, the only way forward is to identify what opportunities there are to redeem myself."
Jones said he no longer watched "blue movies".
The politician, once tipped as a rising star for Labour, had earlier told National Radio's Nine to Noon he was a "chump" and had "cocked up".
"It was a mistake," said Jones. "There's no justification for it."
On RadioLive, Jones told hosts Willie Jackson and John Tamihere he was "a red-blooded adult".
"I'm going to put my hand up and say I watched blue movies and ended up paying them back," said Jones. "It was something that I've done and I'm not happy that I've done it. I've disappointed a lot of people."
"I won't deny it, I've done it more than once," he continued. "I don't habitually watch blue movies but from time to time I did in a hotel. It is what it is and I am what I am."
- with NZ Herald staff